It has been an exceptionally long time since my last post on the garden blog. It appears the last one was around June of 2012! Well, last year was a disaster. We had a really extreme summer with a major heatwave – and little to no rain. In addition, it was the birth of our daughter back in April as well – so I was absolutely bombared with other things that needed more attention. So mid year last year, I stopped posting. Hopefully this year I'll be able to do some kind of normal postings.
But, if this year has just as bad weather wise, the blog will probably have just a few posts like last year.
Let's start off with some pictures. Time time last year, it was 80 degrees already. Today, it was SNOWING out. We got the largest snowstorm of the season – and it is Spring! What happened? We had two other snow events earlier in the season – but now we just got about 8 or more inches of snow today!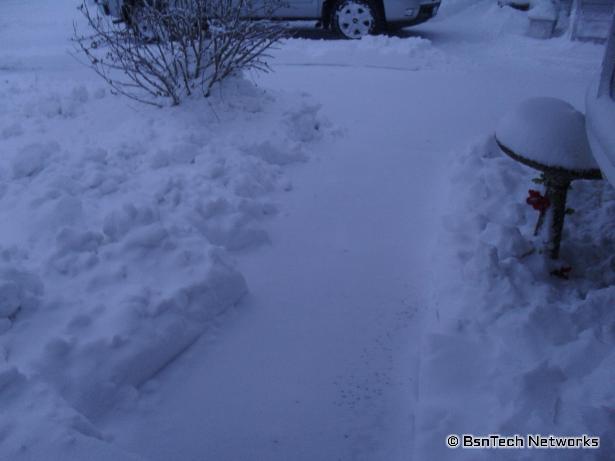 It took me over 1.5 hours to use the snow blower to clear it. I tried to get out there and get through it – but it was wet, heavy snow. Not fun. To make matters worse, I got the back driveway done (pictured below) and then I lost a swivel nut for the handle for the snow blower. So I had to take the swivel nut from the thower so I could at least finish the driveway.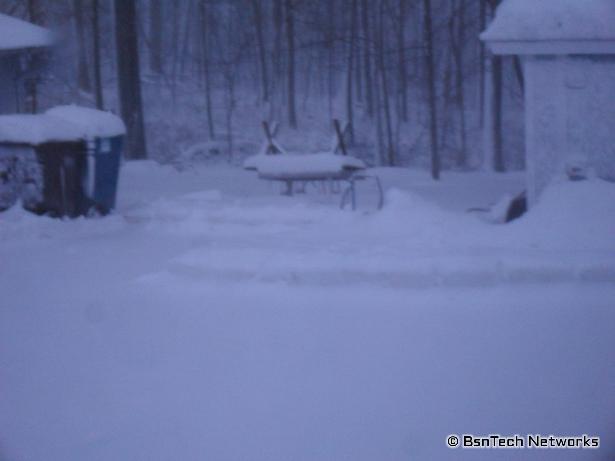 Amazing – one year and what a difference. From 80 degrees – to about 30 degrees this year. I'm hopeful that maybe this means this summer won't be nearly as warm. It has been unseasonable cold for the past week or so here according to the weather folks. Last year it was unseasonably warmer.
Downstairs, the 'germination station' is going well. The Ventura celery was started around the beginning of the year along with the Varsity onions.
At the beginning of March, several other items were seeded. Six Snow Crown Cauliflower, five Green Goliath Broccoli, five Premium Crop Broccoli, and a lot of California Wonder Peppers.
All of the cauliflower and all of the broccoli sprouted. Amazing. The seed is at least two or more years old now.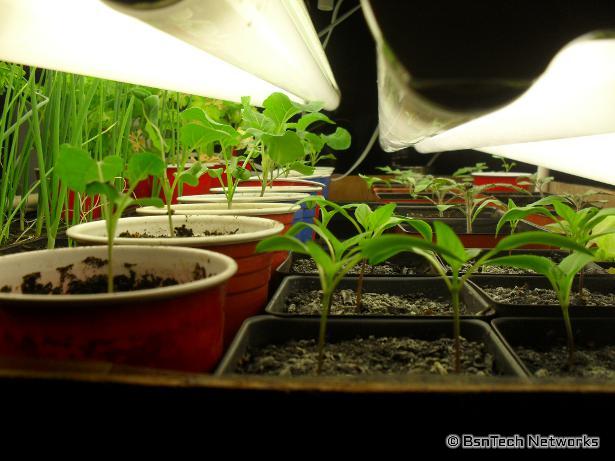 Tomatoes were also planted at the beginning of March as well. Five Red Cherry tomatoes, about six Roma Tomatoes, and around nine Best Boy. Not ONE of the Roma tomatoes sprouted. Two of the Red Cherry tomatoes sprouted. And, almost all of the Best Boy tomatoes sprouted. So I had to transplant some of the Best Boy tomatoes into their own containers. I planted three seeds of each in a square container.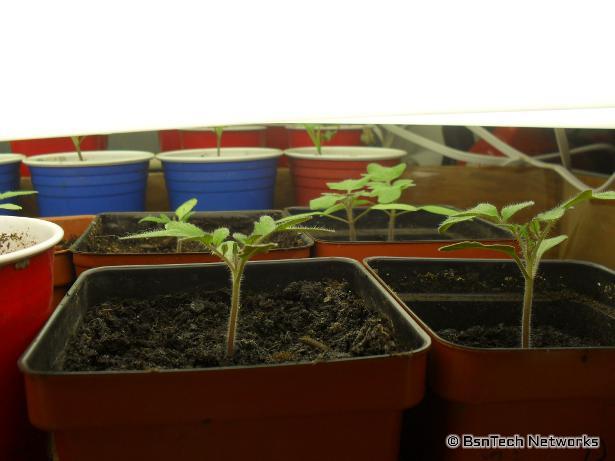 And lastly is the lettuce. Last year, I had great success with Simpson Elite, Red Salad Bowl, and New Red Fire lettuce. We had POUNDS of lettuce and we had to give a lot away. the first planting was also done around March 1st with a second planting just last weekend. they are coming along well – and there are 12 plants now.
That is all for this post. Maybe the weather will start to get warmer – but they are saying 40's this coming week. Just thinking… last year I was planting peas and potatoes. Today, we get a heavy snow storm – and I just bought the Kennebec seed potatoes today at Rural King for 35 cents a pound. What a difference a year makes.