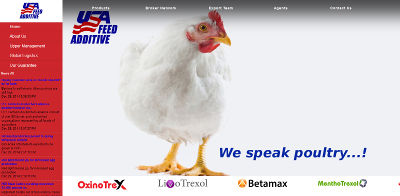 Kevin, a current customer of BsnTech, contacted us to get started on his second project. Just a few weeks back, we completed his other project for the organic sciences business.
This time, he needed a website that was about half the size of the previous site for a feed additives business.
We started on the project about a week ago and it encompassed approximately 20 pages. The website also contains a scrolling RSS feed of related news stories along with a slideshow scroller at the bottom of the home page that contains the logos for each of their products.
Today, we have just launched their new website and it is ready for business!
We appreciate the continued business from Kevin and look forward to the other three website projects he plans to award BsnTech Networks with.
The feed additives website is at usafeedadditives.com.