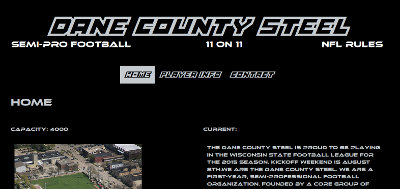 Chad, the owner of the semi-pro football team – Dane County Steel, contacted us to get a simple website together. He noted that he had the materials and the layout ready to go – and that he just needed someone to build it.
Once we received the information from Chad, we had all of the design completed within three days. He then requested some changes – which were done the same day. Chad provided us specific fonts that he needed on the site – which required a conversion so they would be cross-browser compatible.
Today, we have turned the website over to Chad – and he will begin managing the website himself.
We appreciate the business from Chad!
The Dane County Steel website is at danecountysteel.com.