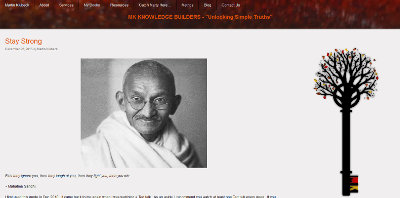 BsnTech Networks received a referral from Don, the owner of Play Like a Champion Today. He referred over Martin, the owner of MK Knowledge Builders.
Martin had been looking for a way to get his website converted over from Joomla to WordPress. Martin was familiar with updating his website through Joomla, so he wanted to be sure it would be just as simple (or easier) with the conversion of the website.
The main concern Martin had with Joomla was the security updates. With each major revision of Joomla, it requires a full re-working of the website. And in some cases, the plugins/components used are not available in the newer version.
We started by doing the base install of WordPress and then getting the design of his website to be very similar to his current Joomla site. Then, we imported all of his pages and blog posts, got the features added, and we were finished.
Martin has been successful with already putting a few blog posts on his website and has taken the transition very well already.
We appreciate the continued referrals from our customers and the additional opportunity to help Martin!
The website for MK Knowledge Builders is mkknowledgebuilders.com.