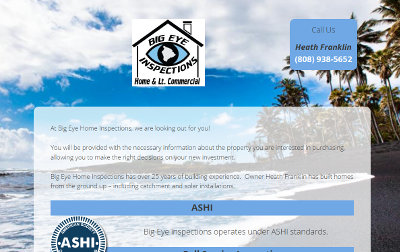 Heath, the owner of Big Eye Inspections, contacted us a while back to have a simple website made for his home inspection business that covers Big Island, HI.
He provided us the text information that he wanted on the website and we put together a simple, one-page website for him to meet his needs.  Heath explained that he didn't want anything fancy; just a web page to put online in order to allow visitors to see that he is a real business and provide some background about him and the inspection services he provides.
The website has been completed and it is published and online!
We appreciate the business from Heath.  His website is bigeyeinspect.com.