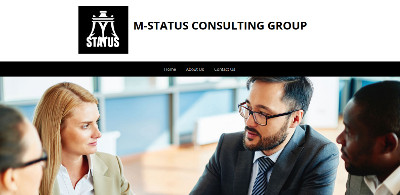 Kevin, the owner of M-Status Consulting Group, called us last week. He was referred to us by another customer that we worked for in the past and said that we came highly recommended.
Kevin needed just a simple website for his business consulting service. After understanding Kevin's requirements, we sent over the initial invoice. Originally we were also going to help with a logo design, but he had one made already and opted to keep the same one.
The website hosting and domain name were setup after the initial invoice was paid. Kevin followed up the next day with the website information – and we had the site setup and done within 24 hours of receiving the information.
We appreciate the business from Kevin!
The M-Status Consulting Group website is at mstatusconsulting.net