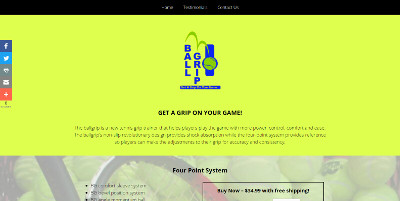 Tom, an inventor that created The Ball Grip, asked for some assistance creating a website to sell his product. He was very excited about getting started on the website that it kicked off very quickly after our initial conversation.
We began by getting the list of requirements from Tom and he supplied us the information to put on the site and completed the eCommerce questionnaire.
Within a few days, the website was mostly complete. A few modifications were requested and Tom sent us a logo that another designer created and this was added to the site.
Tom plans to add additional products to the site in the future, but currently there is just the one product – The Ball Grip – with a choice of four different colors.
The website for The Ball Grip is at theballgrip.com.