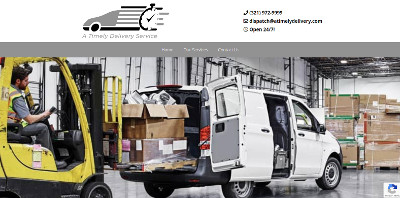 Jay, the owner of A Timely Delivery Service, LLC – contacted us two weeks ago. He originally had a website but found that the website went offline.
Unfortunately his prior website designer created the site and also put the website under his hosting account. The web designer passed away and the hosting plan was suspended.
We attempted to use the "Wayback Machine" website to see if a snapshot of the site was available, but it wasn't. We then turned to Google and was able to pull up a few cached pages to at least retrieve the text information – but the formatting/style of the site and the pictures weren't available.
After some investigation, we had a conversation with Jay and helped make some changes to the domain names and we proceeded to help get a new site created.
Within a few days, the site was completed but he wanted to wait over the weekend to see if there was anything else that may need changed.
Today, we communicated again and he has approved of the site.
The website for A Timely Delivery Service, LLC is at atimelydeliveryservice.com.