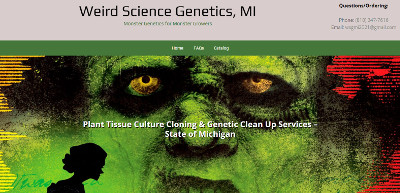 Bruce, the owner of Weird Science Genetics, contacted on December 20th asking about our website design services. Bruce provides plant cloning services and genetic cleanup for certain types of plans in the state of Michigan.
His needs were pretty simple after we understood what he was needing. Due to the inventory that he has and it varying rapidly, he requested to have a website which would be a product catalog. The catalog shows a picture of each of the plants, their name, description, and pricing. But since it is just a catalog website, the site doesn't allow for online purchasing.
Bruce sent in payment right away and followed up with the information needed to create the site.
Today, Bruce called and approved the website, so it is now completed and launched!
The website is at weirdsciencegenetics.com.