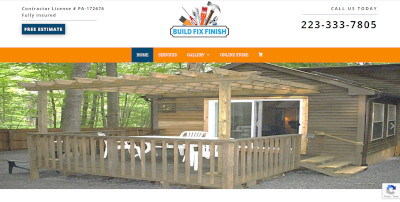 Steve contacted us in early April about our services. We previously posted about a logo we created for his business, Build Fix Finish.
The main service that Steve needed, however, was a website. He provides handyman services along with custom woodwork services to his customers.
The website for Build Fix Finish has several features including eCommerce capabilities, a basic contact form, a picture gallery, mobile device compatibility, hover over menu navigation, and a homepage slideshow.
We worked with Kelly to get the website setup and then he added in the eCommerce products to the store. Upon completion, he asked us to also create two new logos and replicate the website to two different domain names.
This was all completed this week and he has three different websites and logos that are completed!
His main website is at buildfixfinish.com.