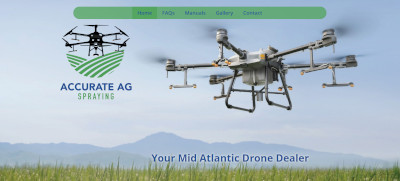 Kenny reached out to us several months ago to get a domain name registered for him. Kenny has been a customer of ours for many years with other websites that we have created and host for him as well.
A few weeks ago, he was ready to move forward on getting a website created for Accurate Ag Spraying. He supplied us the information that was needed on the website and we begin to get the site created. The website has five pages, hover-over menu navigation, fixed menu navigation (stays at the top as you scroll down the site), a basic contact form, mobile device compatibility, an "accordion" feature for the FAQs, and a picture gallery system.
This past weekend, we finished the verbiage updates that Kenny sent, and the website is now completed!
The Accurate Ag Spraying website is at accurateagspraying.com.