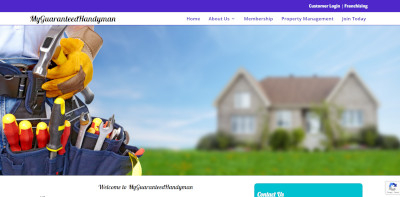 Darryl, a current customer of BsnTech, asked us last week about getting an estimate on two more websites. One was this website – MyGuaranteedHandyman.
This is a handyman service in the Boston area and they offer two different packages which qualify for discounts. Some customers need handyman services frequently to assist with their home repair needs – so the packages provide savings for those that need recurring service.
The website has seven pages, two contact forms, hover over/drop down menu navigation, mobile device compatibility, an "accordion" feature for the FAQs, and a login feature.
Today, we completed the site and it is now launched!
The site for MyGuaranteedHandyman is at myguaranteedhandyman.com.