Grandma on my mom's side of my family passed away around 1:30 pm. She has had a hard couple of years between being in and out of the hospital and nursing homes.
She was due to move back home – tomorrow – but she went to the hospital on Friday with breathing problems. They were assisting her breathing by the use of a CPAP machine that started on Tuesday – and it was set at 40%. By last night, they had moved it from 55% during the day – to 80%. She was non-responsive all day yesterday when we went to visit her because of the high levels of carbon dioxide in her blood. Her lungs simply were not expelling the carbon dioxide correctly. Today, Thursday, the decision was made in the morning to remove the CPAP machine. About three hours later, she passed away.
---
The temperature has dramatically changed in Central Illinois. It had been very nice for a fully week with temperatures in the high 60's to mid-70's. Last night, heavy winds came through the area and brought with it much lower temperatures. It got below 32 degrees last night for the first time in over a week. When we arrived back home last night, all of the onions and celery in the front garden were uncovered because of the winds – so that had to be fixed.
The celery is doing very well – but unfortunately several stalks have broken off because of the floating row cover. The onions are also doing well – both in the front and in the cinder blocks in the back garden – and none have been lost thus far.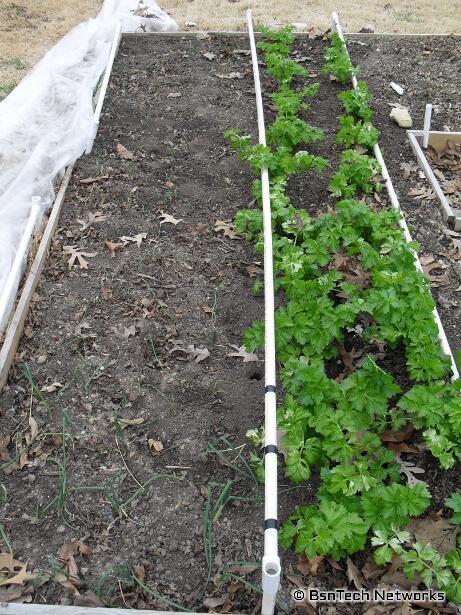 A closer look at Ventura Celery. This celery is now four months old (was inside for all but the past two weeks):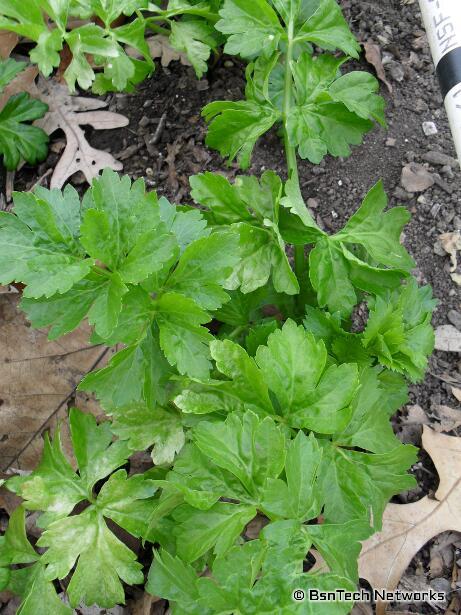 And one of the Copra onions that has also been living for four months. This was also set outside two weeks ago. This one is doing better than all of the others at this point: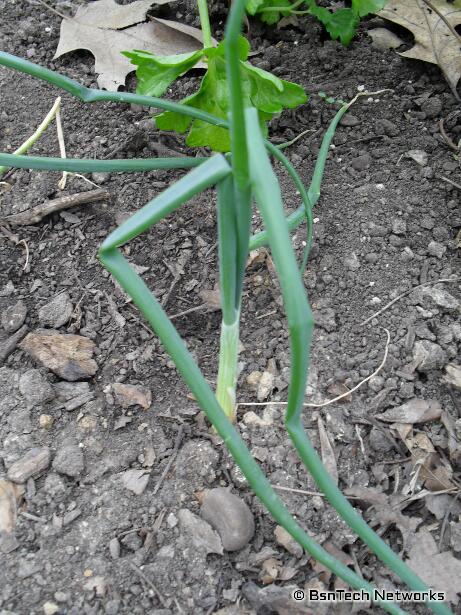 Back inside, I am beginning to skip a week when it comes to planting lettuce. I've planted five varieties of lettuce the past three weeks – so I have 15 total seedlings: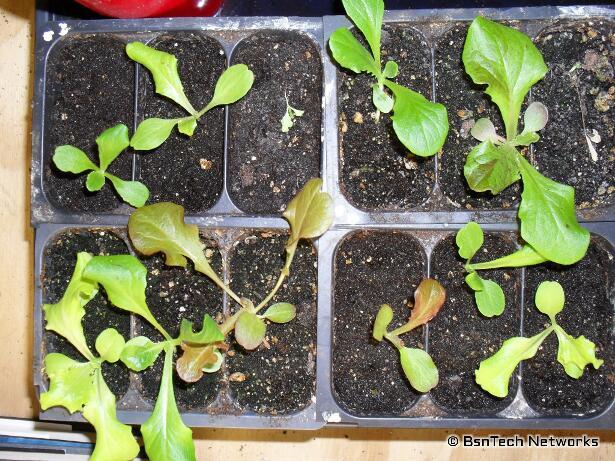 The top left is Parris Island followed by New Red Fire. On the bottom left is Simpson Elite followed by Buttercrunch and Red Salad Bowl. They were all thinned to one per cell today (only the first two weeks – the last week's are still very small).
Here is the row with both Premium Crop/Green Goliath broccoli and Snow Crown cauliflower. They are doing quite well and most are about three weeks old now.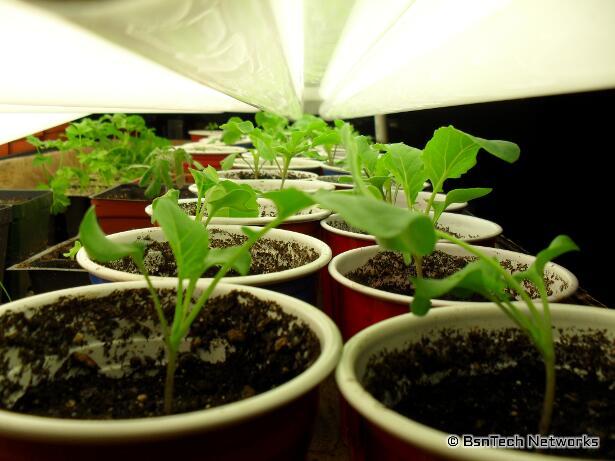 And a closer look of one of them: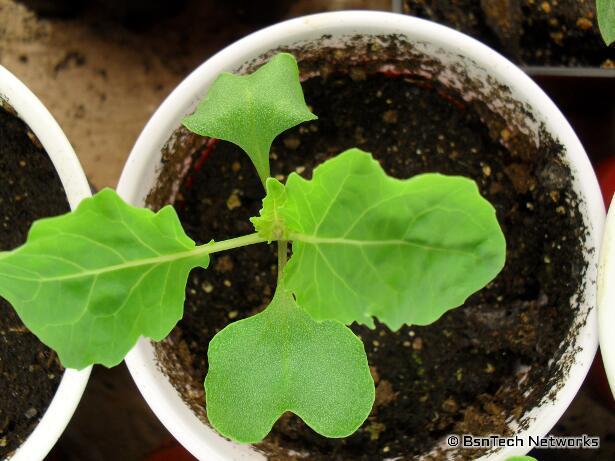 I'm excited to report that one of the Anaheim Hot Pepper and one of the California Wonder peppers sprouted this week! It took three weeks to sprout – only one of them. I re-seeded four additional Anaheim Hot Peppers and 16 California Wonder seeds over the weekend. Now that I've left the heating mat on 24 x 7, the temperature has – in some cases – got up to 102 degrees. Most of the time it hovers near 90 degrees.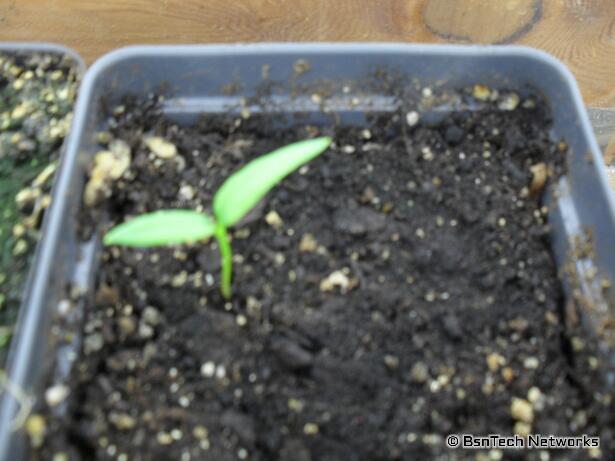 The tomatoes are also doing very well. A variety of Best Boy, Red Cherry, and Roma Tomato were planted.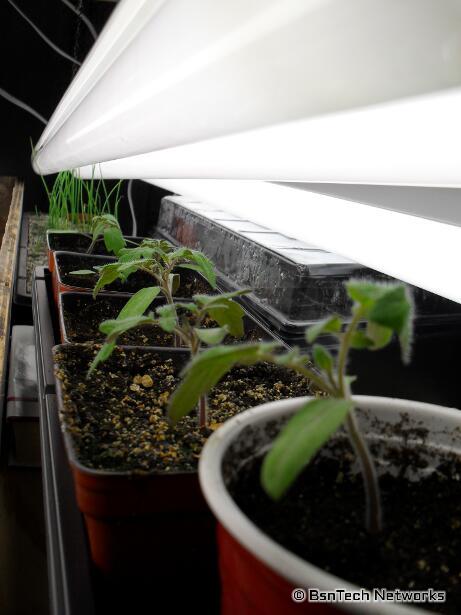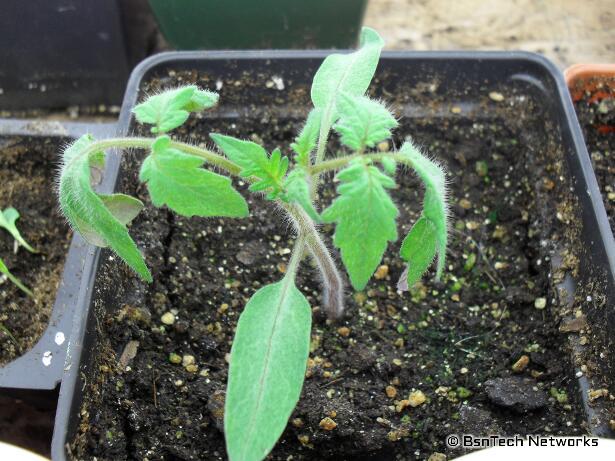 That takes care of all the pictures from the garden – and mostly takes care of this garden update.
The only other update was on the Cascadia Snap Peas. Absolutely none of them have sprouted outside yet – and it has been over a week now. I was expecting the peas to start sprouting because of the very good weather we were having. Hopefully the peas will start coming up in the next few days.