Earlier at the beginning of this week, some onions and celery were planted outside.
This week has seen a nice increase in temperature. The nights barely dipped below freezing – but the past couple of days, it only went down to around 45 degrees. During the day on Wednesday, it was about 63 degrees and fully sunny. Thursday was even warmer – about 73 degrees.
Therefore, I took advantage of the temperatures. On Tuesday, I got the rebar driven into the ground and put the chicken wire fencing up that will allow the peas to grow on them. I had some two-foot high fencing that I used a few years back – and that is when I discovered that two feet certainly wasn't enough. So I re-used that at the bottom by the soil – then stacked another three-foot high fencing on top of it. So the peas will have five feet of fencing to grow up now. That should take care of that problem.
Last year, I stacked two sections of the two-foot fencing on one another next to the house – then used some green snow fencing behind the garage. The snow fencing simply didn't work; the webbing of the plastic was too thick for the peas to grasp. That is why I've now setup all chicken-wire fencing – because it is just perfect.
On Wednesday, I planted all of the Cascadia peas that were needed. There were approximately 200 planted behind the garage and 134 planted next to the house. Because the soil I use is 100% compost, it was very simple to use a garden rake to make a shallow trench next to the chicken wire fencing. Then I just walked down the row and dropped in the seed! According to many online sites, you should plant pea seed two inches apart. I'm sure I planted much closer than this – but this will allow me to thin if required.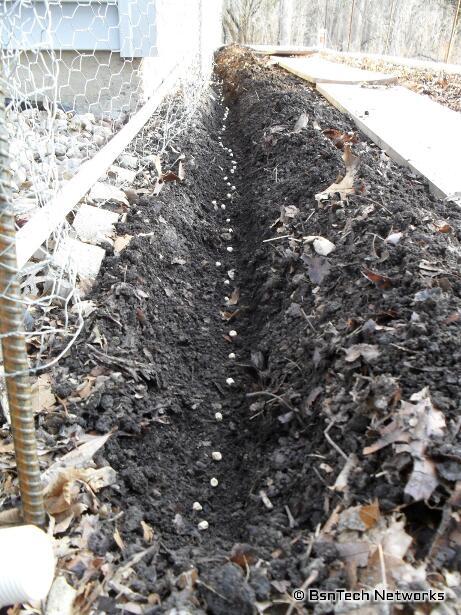 After they were dropped in, I then covered them back up with the soil. According to my 2011 garden plans, I was to plant out 298 peas. Wow! I planted out only a few more than anticipated (112 beside the house – so an extra 24 were planted there – and 168 behind the house – so an extra 32 there).
Because I put the peas in, I also wanted to close off the area around the back garden to prevent deer and other animals from getting in. So I put up the fencing around the perimeter as seen here.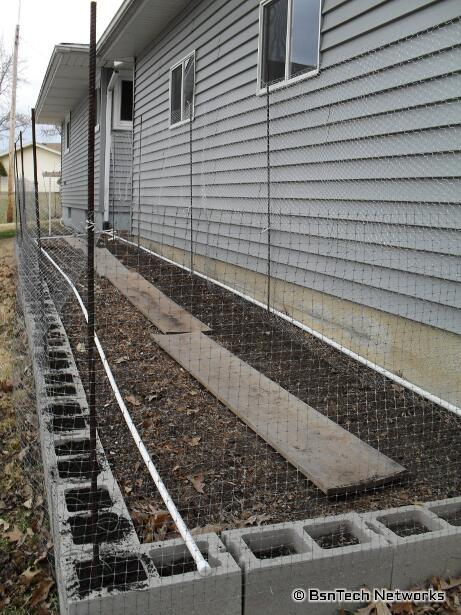 On Thursday – a lot of other stuff was done as well. I was outside for a good three or more hours – up until sundown.
I started by transplanting another ten Ventura Celery from my germination station downstairs out into the front garden. So, I originally alloted for 18 celery – but ended up putting in 22. That is because I forgot that I was going to grow a row of green beans on either side! Oh well – there will be plenty of time and space for green beans. Even then, I still don't know what we'll do with 22 celery plants! So in case something happens, I still have about 11 plants under the lights downstairs. Certainly hope nothing happens with the temperatures – nothing that the floating row cover can't handle anyways!
After that, I brought out the Copra onions and transplanted them as well. When I started the onions, I seeded them directly into a tray instead of putting them in cells (like I did last year). This was a fiasco. The roots were everywhere and because the entire tray had 130+ onions planted so close, it was very difficult to pull the onions out without breaking the roots. So note to self for next year – plant one or two onions into individual cells so they are easily pulled out.
In my garden plans, I estimated that I should be able to put four rows of 20 onions – or a total of 80 onions in the front. Previously, I planted 14 onions – and then Thursday – it was fully filled in with another 62 onions. So – I didn't do as well as expected with only putting 76 onions in – but heck – only one row shy isn't too terrible!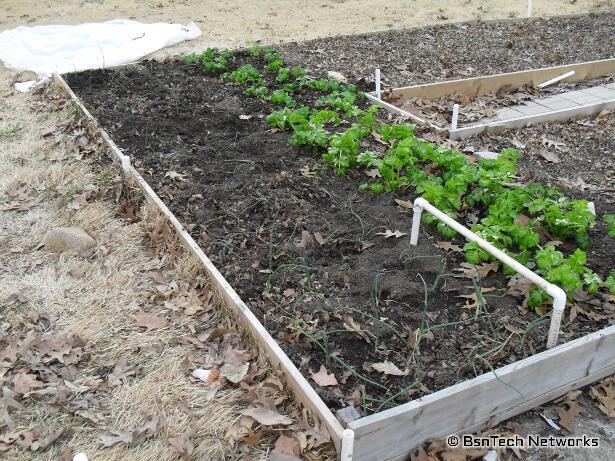 Then because the onions are so tiny, I know that the floating row cover would have been too heavy. I ran three sections of PVC pipe along the garden area to provide support – and put the cover over everything.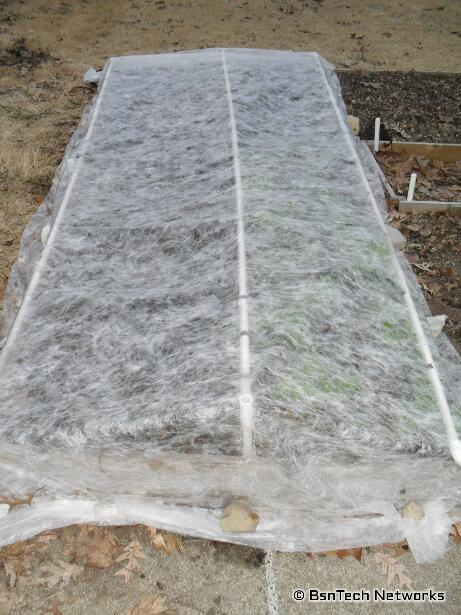 After doing that, I then took the onions and went to the back garden and placed on onion each in the cinder blocks. If I remember right, I put another 53 onions in the blocks. I certainly hope that they make it – because some of these were very small – and were not ready for transplant. But, they were being overly crowded in the tray they were being grown in – and I was completely out of room in the germination station.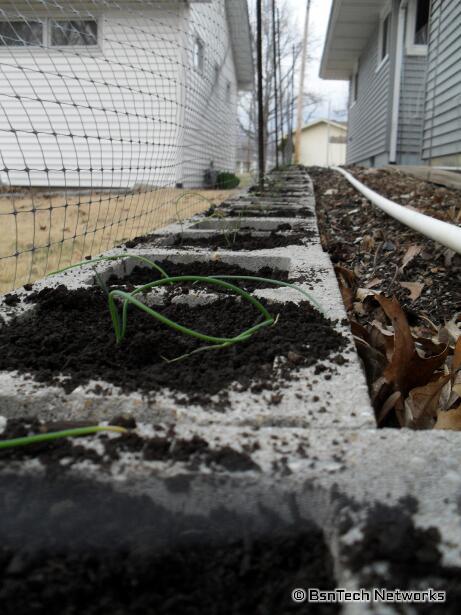 Well, that takes care of the gardening duties for a while.
Down in the seed-starting area, I planted another four seeds each of Red Salad Bowl, Buttercrunch, Simpson Elite, Parris Island Cos Romaine, and New Red Fire Leaf lettuce. It seems that these are averaging between four and five days for germination. This makes the third consecutive week of planting lettuce. From now on, I'll be planting them every two weeks so we'll have a good supply during the season – and to keep everything from producing at once.
It is two weeks later – and not ONE of the Anaheim Hot Pepper or California Wonder peppers have sprouted. Part of the reason – I believe – is because the heated greenhouse area was barely getting to 80 degrees before being shut off for the night. So, I put the heating mat on 24/7 and I'm hoping that this will get the soil temperature of the peppers where it needs to be. Back in December, I checked the seed germination on the California Wonder pepper – and about 75% – 80% sprouted. So I know the seed is good. With plant 16 California Wonder seeds and four Anaheim Hot Pepper, there has to be one come up! But, if nothing sprouts by this next Thursday, I'm going to do damage control and plant a lot more.