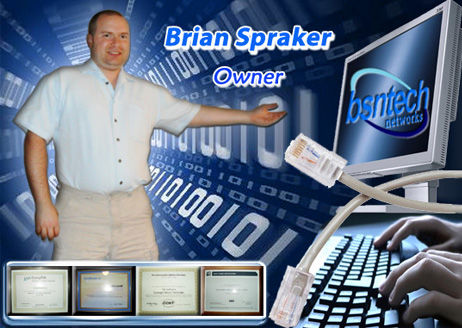 Brian Spraker – Owner
First of all, welcome to BsnTech Networks! The name "BsnTech" came from a computer technician that I used to work with decades ago. I worked at a small Radio Shack store when I was in middle school and they also supplied computer repair services. The sole technician there was a great mentor to me and helped me turn my passion for computers into a real-world use. When I built my first computer with his help, he placed a sticky-note on the front of the computer and it said "BsnTech". The name was then born from there – and "Networks" was added on to make the company name "BsnTech Networks".
BsnTech Networks was born out of the necessity for more affordable computer technology services. In our local area, we provide computer, network, and server administration support for small businesses. Our rates are highly affordable and lower cost than other larger computer consulting firms in the area.
However, our main business at BsnTech is website hosting and design services. We started in 1999 with our first website for a scrapbooking and craft mall. As we began advertising online more, we found a very large need for truly affordable website services. Most web design companies are large and expensive. Therefore, our targeted customer is the small businesses, sole proprietorships, and non-profit organizations that just need to have a simple website with truly ethical pricing.
My knowledge extends well beyond just website services as well. Since 2000, I was active with training and obtaining several industry certifications. These certifications include CompTIA A+, Network+ , and Security+ certifications, Microsoft Certified System Administrator (2000 & 2003), CCNT, and Dell DCSE.
In addition to certifications, education is also important to me. I graduated from Lake Land College with an Associates in Applied Science majoring in Network Administration. I then went on to complete a Bachelors degree at the University of Illinois.
On a personal level, I am a father to one daughter and a husband since 2008. I am also very active in our church Men's Ministry (St. Paul's Lutheran). I volunteer the gifts that have been given to me by assisting the church with their information technology needs. I do my best to live in a way to uphold the scripture of "So whatever you wish that others would do to you, do also to them". This is written many times in the Bible but most notably in Matthew 7:12 and Luke 6:31.
---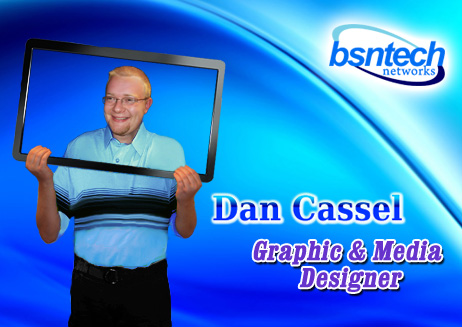 Dan Cassel – Freelance Designer
Over the past decade, I've assisted in creating and enhancing a 5 star graphic design department. My passion falls in this field, therefore, I will work with you to bring your unique graphic concept to life! I take pride in creating outstanding quality work, always with the ability to modify any aspect to get closer to what you envision. I am very proud to be a part of this team. My goal has and always will be quality services and presentation at affordable rates, which is exactly what you'll receive. Visual appeal is very important because the more attractive and organized the website is, the longer people will stay and browse.
How did I get started?
For well over 15 years I've been fascinated by how the finest computer software provides the tools to create any design conceivable! I've researched, experimented, and become well versed in Adobe software. I use Photoshop to enhance photographs or design in 3D. I use Fireworks to get crisp dynamic transparent .PNG files. I use Illustrator to design outstanding full scalable vector graphics for print or large scale. I am familiar with Audition and Premiere for video editing and sound editing. I am continually amazed at the creative control these programs allow to create digital works of art!
My individual understanding of the diverse tools available within these programs give a unique perspective for any image, graphic, or logo design.