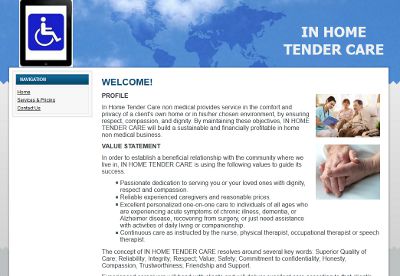 A representative for In Home Tender Care contacted us a few weeks back to make a website. Initially, they inquired several months ago to see about pricing. After getting some other bids from web designers, they chose BsnTech Networks to create the website for their non-medical care business.
We got started on the website right away and were done within two business days. In Home Tender Care just let us know today that the site is "a go" and that it was what they were looking for.
In the future, In Home Tender Care may add additional functionality or pages to the site, but they are pleased with the site and the low cost, affordable website design that we provided.