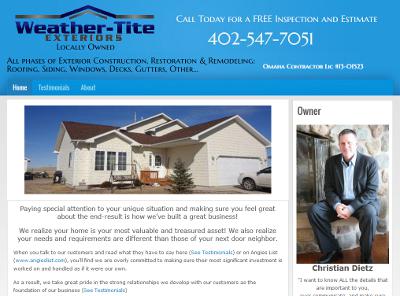 Christian at Weather-Tite Exteriors continue to BsnTech Networks for creating an affordable website design for his businesses. Christian came to us a couple of years ago to start a website for his business in Rapid City. As he business has grown, he has opened more locations. About a year ago, a location was opened in Minnesota. He also contact us to make a low-cost website design for this location as well. Now, just recently, he is moving to the state of Nebraska and has opened a new office in Omaha to service customers that need home services including roofing, siding, and more.
We appreciate the extra business that Christian has given us – and are humbled that he continues to put his trust in us for all of his website services needs.
If you or someone you know needs a cheap website design completed, our staff at BsnTech Networks is ready to help you for an afforadble rate that is fair.