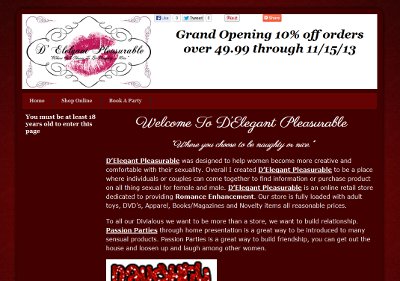 BsnTech Networks was contacted by a current customer for help making a new website. Initially, our customer wanted to create two new websites. After we put the pieces together, we discovered that we could combine both ideas and make one website for her to save on cost.
Ovella had us create a website for her several months ago for her "Process My Refund" business. She then requested that we help her make a website for D'Elegant Pleasurable. Ovella already has a drop shipping arrangement by using another provider for her full-scale eCommerce website, but she wanted to make this site to help advertise her lingerie products and to allow interested parties to create parties that would showcase the products from both of her websites.
Therefore, we setup a website for her that would allow for "Ladies Night Out" parties with a form to book them online. In addition, there is a page on the site that serves as her Online Store that allows visitors to purchase some products directly.
We appreciate the additional business from Ovella and hope we can serve her with any of her other website needs.
Her website is at delegantpleasurable.info.