I took some time off of work today in order to get the rest of the garden beds filled up. The Macon County Compost Facility is only open from 7 am to 3 pm during the weekdays and closed on the weekends, so this conflicts with my normal work schedule.
Unfortunately, I forgot to take a picture of the compost facility as it would be a nice touch to see where I get all the "black gold" from for the gardens.
The car was full again and it took me about five trips to the facility today to take care of everything that needed filled. This time the trunk was full with nine five-gallon bucks, the backseat with eight buckets, and the passenger seat with one.
Strawberry pyramids were the first on the list to be filled. They are now all done, and in this photo they are in front of the grape arbor, but from the road they are behind the grape arbor.
The next place was behind the house. A few weeks ago this area was filled with rock, but I moved all the rock and re-did the landscaping. This area is between the house and garage, and there is only about six-seven feet between the two. Since this is the north side, I had to clear all the rock so the little amount of sun that makes its way between the house and garage goes here. In this area, my wife and I put up some chicken wire fencing (was cheaper than the plastic fencing believe it or not). The fencing will be used to hold up the dwarf peas. I read that even though they are dwarf, they grow about three-feet tall, and need some support. So, the top two feet will be supported, but not the bottom foot. In front of the peas we will grow the onions and some radishes.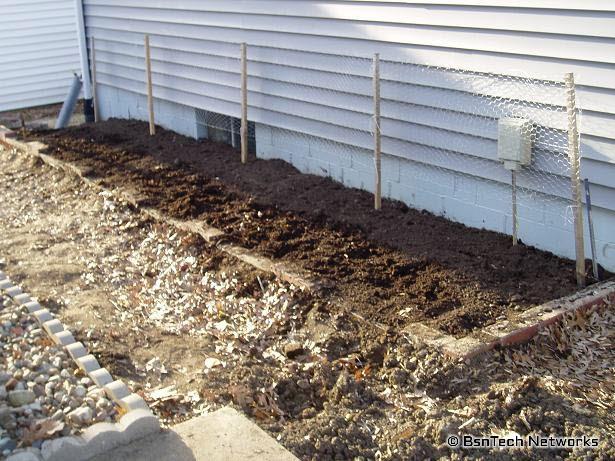 It was already past 5 pm so the sun was setting and is now lighting up the walkway between the rock bed and the new garden area.
Lastly, I got some dirt and put some over the top of the area we had the tomatoes last year – this is behind the garage. We did the same thing here and put the chicken wire fencing since I hope that I can get a harvest of peas in before the tomatoes take the area over again – just like last year! I know you are not supposed to plant tomatoes in the same place year after year, but this will make the second year in this area – and there just isn't any other place to put the monstrous plants these grow into!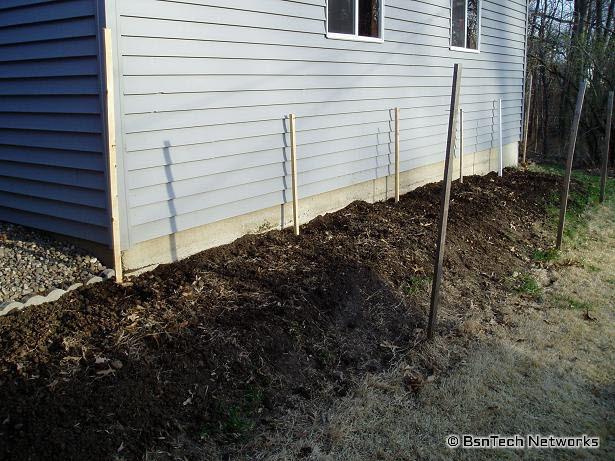 That closes the day off in the BsnTech garden. Quite a day worth of work. This weekend we will go to the in-laws house and take two car loads of compost to fill in the area for the corn and potatoes.