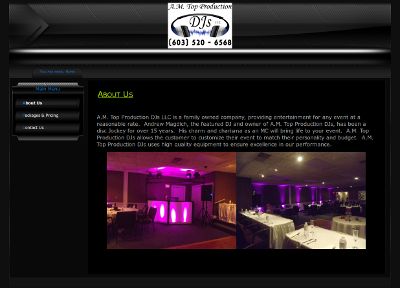 Chanton and Andrew, the owners of AM Top Pro DJs, contacted us several months ago asking some questions about getting a website created for their DJ and karaoke business in New Hampton, NH.
After about a month, they decided to go ahead and have a basic website created.
They just wanted a site that had their logo on it, explained the pricing and packages they had available, and have a few pictures.
We got to work quickly on the site and had the site mosly completed within the first day. After several weeks, Chanton provided some pictures that they wanted to add to the site.
Today, Chanton has decided to have the website go live! We made the final changes to the site and provided the login information so they could manage the site going forward.
We appreciate the business from Chanton and Andrew!
The AM Top Pro DJs website is at amtopprodjs.com.