Wow, two posts in a month! Well, this one is a pretty simple post.
I see a lot of questions on message boards asking – what is bolting lettuce – or what does bolting lettuce look like?
Well yesterday morning, I went out and picked a huge amount of lettuce. Most of it already had some brown spots in it and wasn't worth keeping – but I did get a large container full of lettuce that we kept. Filled four one-gallon freezer bags.
Unfortunately, the lettuce is bitter now because of the hot temperatures. Anytime lettuce begins to bolt, it will cause the lettuce to be bitter. However, there isn't any sense in throwing away the whole thing!
The key is – cutting out the stems. The main stem in the lettuce leaves are what contains the bitter tasting stuff. So when cutting up the lettuce, just discard the stems and the rest of the leaf is just fine. Otherwise, it certainly would be a shame – because we got about a 5-week supply of lettuce. Now with this last batch, that should last another three weeks and push it up to an 8-week supply.
After the lettuce was all picked, this makes for a perfect view of the lettuce plants that are bolting.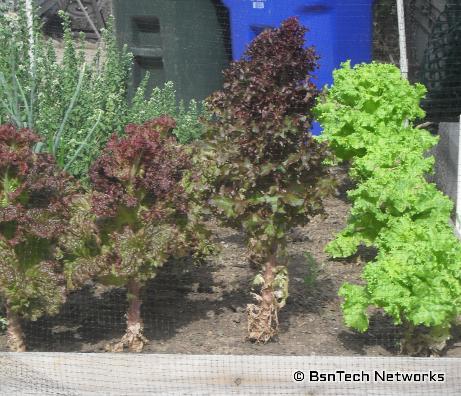 Notice the New Red Fire lettuce – the two on the left. Then there is the Red Salad Bowl lettuce just in front of the blue container in the background, followed by the row of Simpson Elite on the right side.
You can really see how the New Red Fire and the Red Salad Bowl lettuce has bolted. This still isn't the greated picture, but the lettuce is at least a foot tall (or higher). They look like miniature trees after I have removed the bottom leaves.
I'm not sure if we will get any more lettuce since the plants have already been bolting for the past week – but I don't want to pull all of them out just yet.