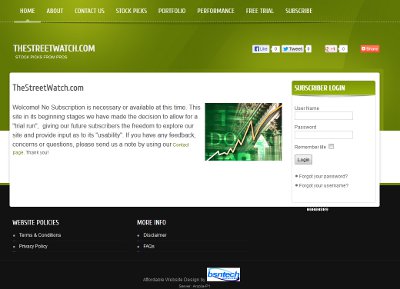 BsnTech Networks just completed the initial website design for TheStreetWatch.com. Jim contacted us a few weeks ago letting us know that he had a few website needs. Earlier this week, we finished up the website design for his car dealership business. He was extremely happy and satisfied with our responsiveness and how quickly the site was made that he awarded us another website to create.
Jim runs a business as a stock picker and tried to make a site using the GoDaddy website builder system. However, he was not at all satisified with the options that were available to him.
Therefore, Jim had us create a new site for TheStreetWatch.com. We took all of his relevant content and put it on the site and made it "pop".
Eventually, Jim will also turn his website into a subscription-based site where he can receive recurring monthly payments from subscribers – an option that GoDaddy doesn't provide either.
We are very happy that Jim has chose BsnTech Networks for his affordable website design requirements, and he is very pleased with our services that he will be giving our name to his affiliates and others that run car dealerships.