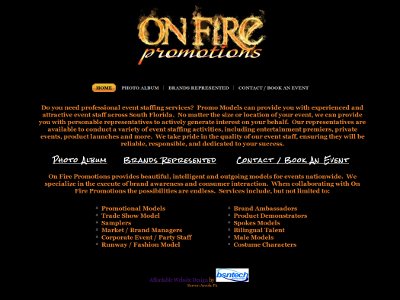 BsnTech Networks was contacted by Jessica, owner of On Fire Promotions, LLC, to create a website for her event staffing and modeling agency.
Jessica already had "designed" the website using PowerPoint and showed us exactly how she wanted the site to look on the site.
Upon receiving the intial design deposit, we went to work very quickly on her website and had it completed within 48 hours!
Jessica did have some difficulity getting her domain name to point to our web hosting servers. She originally had purchased the domain name through another provider and wanted to maintain control of the domian name. After having tried a couple fo times to update the "nameservers", she gave us access to her account to make the changes on her behalf.
Here at BsnTech, we go the extra mile to help out our customers as much as possible to ensure they are fully satisifed with the services we provide.
Thank you Jessica for your business and we hope there is other work we can do for you in the future!
On Fire Promotions, LLC's website is on onfirepromotionsfl.com