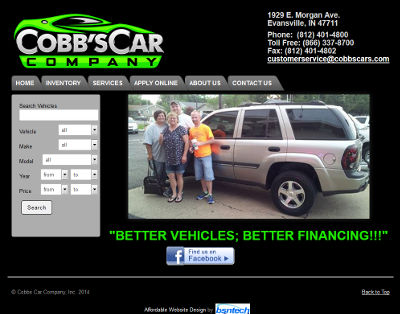 Gary, a part owner of Cobbs Car Company, Inc., had contacted us several weeks ago about getting a website designed for their car dealership located in Evansville, IN.
After speaking to him and the other owner, Chad, on a few occasions, they wanted to proceed with the creation of the website.
Gary chose to have us take care of their website design and web hosting. Before contacting us, they already had secured their domain name. They eventually plan to move the domain name management over to us when it comes up for renewal.
We started on the site right away and had a few calls with Gary to perfect the site and get the color scheme how they wanted.
Last week, they were ready to go live with the website although a few additional items were needed – such as information for the About Us page. Today, we received the info for the About Us page and so the website is almost complete!
The final item that will be enabled will be the ability for them to list and showcase their vehicle inventory on their website. They want to have some time to get used to the website portal and get several vehicles up before enabling the feature on the site.
Cobbs Car Company, Inc.'s website is at cobbscars.com.