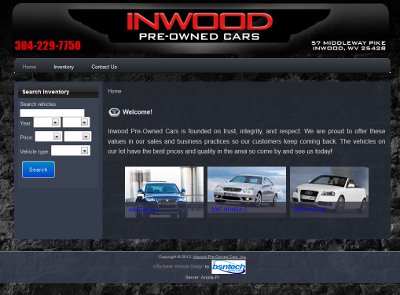 Jim at Inwood Pre-Owned Cars, Inc. contacted us last week about an interest in having a website design done for his car dealership. He wanted to have the ability to add his vehicle inventory on his website. By doing so, it would allow customers and visitors to see what inventory he has right on his website and the information about the vehicles.
We got to work right away for Jim. We told him that we could have an initial design on the site done within three business days. We did better. Once we obtained the details from Jim, we got to work and had something ready to show him within 24 hours.
After a few changes and updates, we completed his car dealership website design in a very timely manner.
Jim is very satisfied with the website and has indicated an interest in having us also create another website for him as well.
We appreciate the ability to help Jim with his car dealership website design and hope there is more work we receive from him!
Jim's website is at inwoodcars.com