Yeaterday it rained all day long – a continous rain that really watered everything very well.
Today I got out in the garden a bit and picked another 2 pounds, 2 ounces of green beans. So far, about 34 of the 70 green beans have sprouted. This is just about the same percentage of green beans that came up the first time around (close to 50%). So I opted to reseed in the places where the second batch of green beans didn't come up.
After that, I took a quick stroll along the back of the garage and there are a huge number of tomatoes coming up! The Best Boy tomatoes have at least two dozen or more tomatoes on each of the two plants and the Roma tomatoes have at least three dozen on the two plants! Again, the Red Cherry tomatoes are not doing nearly as good as what they have in the past, and there were only four or five clusters of tomatoes on each of those two. The two cucumber plants have about six flowers on them each.
The Sugar Dots corn planted about a week ago is doing very well! Out of the 96 plants, 89 of them have sprouted and come up!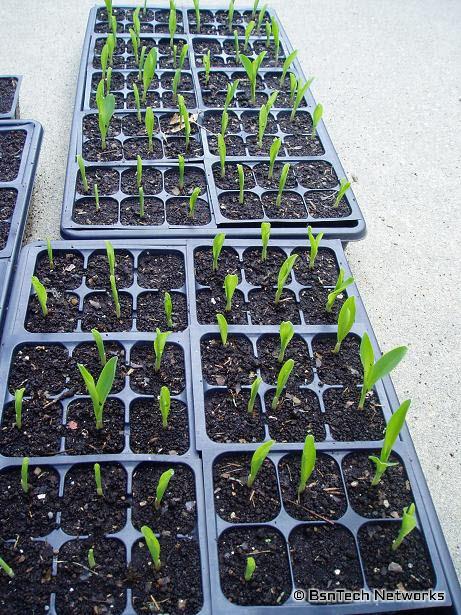 You'll notice in the picture that there is another planter to the left that I mostly cut out of the picture. Friday I went to the local gardening store and purchased a package of Peaches & Cream corn. It seems this must be a pretty popular variety because this was the only variety of corn that had the large package of seeds gone – and there were very few of the small packets of seeds. There were 65 seeds in the pack so I planted all of them. Since Sugar Dots is no longer available locally, I am going to experiment with another variety that can be purchased locally and see how it compares. Sugar Dots is a very good corn and I've grown it for about five years – and it also has the added benefit of putting on a smaller second ear of corn – something most other varieties don't do. So, plant one stalk of corn – get double the harvest from it!
As I was watering the carrots the other day, I noticed one carrot was just peeking the surface of the box. To me, that meant that it was ready to be pulled out. Indeed it was! A very nice-sized carrot. This is the Burpee A#1 variety.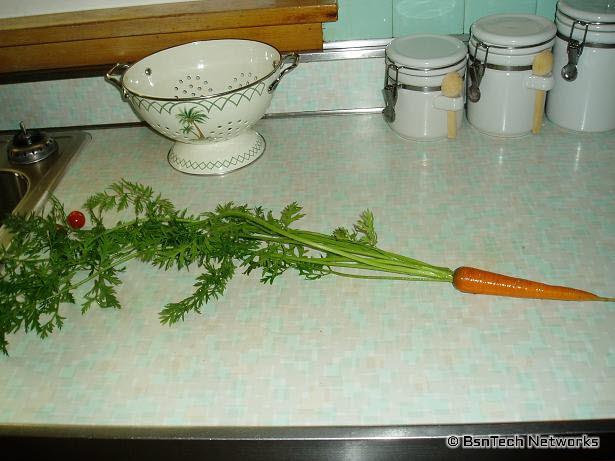 You'll also see in the left side a small red cherry tomato that was picked. There is another one hiding under the carrot's leaves – but those were the first two tomatoes of the season thus far!