Let's start with the bathroom update.
We called it a day already today.  There wasn't terribly much to do this week.  Just a few things here and there.  Since the first coat of drywall compound was put on last weekend, it was just some sanding and filling in the screw holes with compound throughout the week.  In addition, I also cut the last few pieces of concrete backer board around the tub (done today) so the area around the tub is fully ready for tile.
Speaking of tile – we got the first row of tile in around the tub!  The tile was much easier to cut than was originally suspected.  Two pieces needed to be cut and then we used the hole saw to cut the holes for the faucet and valve for the tub.  One tile was broken in the process, but the second try was successful.
Below shows the full walls around the tub completed with the backer board and the first row of tile.
And a better view of the first row of tile.
About six more rows of tile to do before it is done!  Hopefully we can get one more row of tile in today – and then if we put in one row a day, it will be done Friday evening.  That is in a perfect world though.  It seemed to take about two hours to put one row of tile in – but that also included doing the cutting for the facuet/valve as well.
---
What is going on in the garden?  A lot of dead stuff.  I pulled all of the celery this week and pulled the broccoli.  I was hoping to get some seed off of the broccoli plant but it just didn't seem like it was possible.  The celery just didn't do well at all because the incredibly hot temperatures.
In better news, at least we got some peppers.  However, it was less than four pounds.  Last year we picked about 50 pounds of peppers from eight plants – and this year we may have picked about 10% of that from eight plants.  We do have enough to make salsa though – so that is the important part!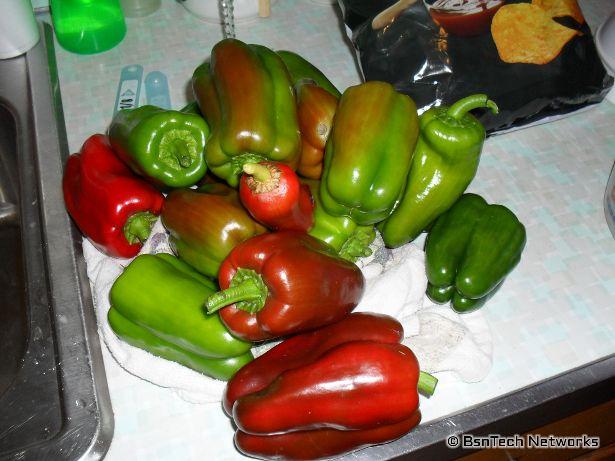 I also pulled all of the pea vines behind the garage.  I was saving those so I could capture some seed from them – and here are the seed pods that were collected: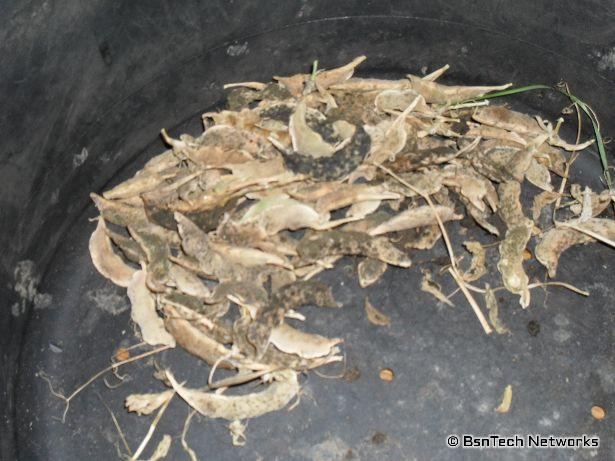 It seemed that out of around 50 or so pods, we got around 125 seeds.  This is just about what I need for next year for planting.  I just hope that they are viable and that they will grow.
I also pulled down the last three ears of corn.  One was not pollinated at all and was discarded – but the other two were full.  I cooked them right up and had them for supper on Friday night.  Just decided it wasn't worth chilling them and freezing them when they could be eaten fresh that night!  The kernels were very meaty and chewy and it was fantastic.  Usually after I freeze the corn and then cook again, the kernels fall apart much easier and are not as meaty.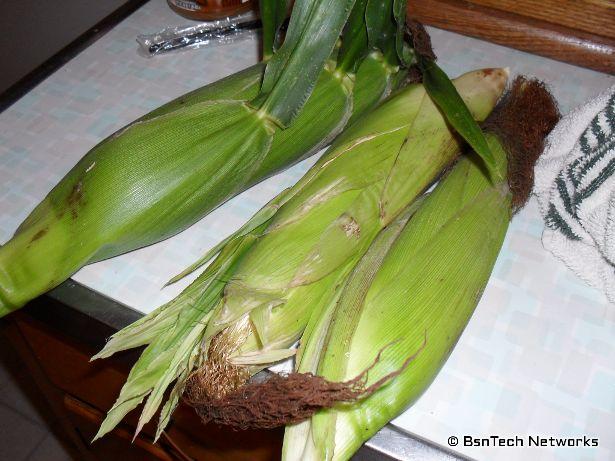 And in the last bit of gardening news – the carrots were all picked… finally!  I've been a bit lazy lately and didn't want to pick all of them.  Well, I got all of them harvested on Saturday in the early morning before it turned off hot.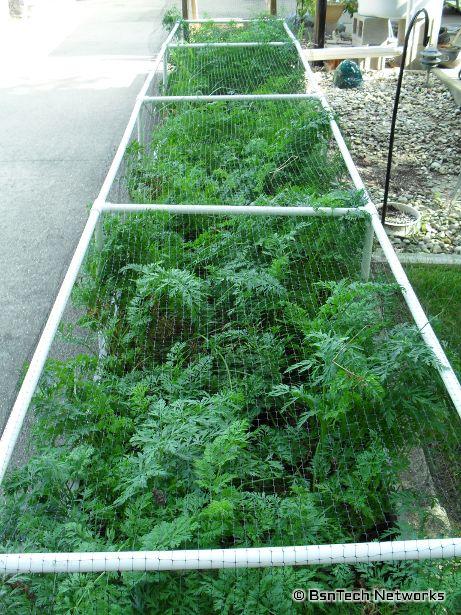 There were two varieties planted this year in equal amounts – Sugarsnax and Burpee A#1.  The Burpee seed was a year old and the Sugarsnax carrots were purchased at the beginning of this year.  Overall, the Burpee carrots seemed to succumb to damping off disease pretty bad and I thought the Sugarsnax tolerated it better.  But in the end, there were about 65 Sugarsnax carrots to 61 Burpee A#1 carrots.
Sugarsnax: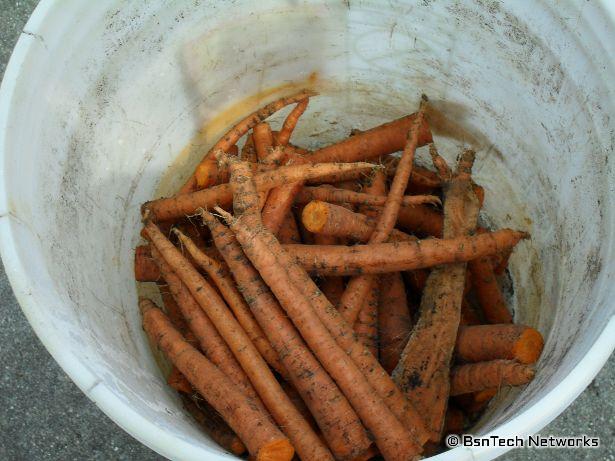 Burpee A#1 carrots:
Now the carrot/potato bin raised bed is all alone and empty now.
Overall, the Sugarsnax carrots weighed in around five pounds, 14 ounces.  The Burpee A#1 carrots also weighed in at…. five pounds, 14 ounces.  Per carrot, there was slightly a bit more weight per carrot for the Burpee A#1 – but not by much.
Taste?  Well, both of them tasted exactly the same and had a little bit of sugar content to them.  So in the end, it doesn't matter which variety is planted in the way of taste, but the Burpee A#1 carrot was just a bit better on the yield.
It is a bit sad though – because combined, the carrots were just under 12 pounds.  Last year we had almost 18 pounds of carrots.  So that is six pounds difference.  If it wasn't for damping off disease hitting, I think that they could have surpassed that 18 pounds this year!
That is all going on here!  We did make another seven jars of salsa last night along with four more jars of pickle spears.  The tomatoes have a lot of bruises/bad spots in them and they are going bad in a matter of days.  So we've been putting them to use in the salsa.