Got back from a weekend away visiting family in Chicago.
Before going, I planted the onions outside in the same area where the peas are – since there is still plenty of room to use there. I planted approximately 30 – 40 each of the yellow onion and white onion sets. I placed them about six inches apart because I'm not looking for too many of the green onions, but the full bulbs that we can use in cooking. The green onions are not used very much in our cooking.
In addition, I put some deer "fencing" (more like a plastic mesh) over the front garden to keep the deer out. I didn't want to return after a weekend away to see all the lettuce, broccoli, and cauliflower were all eaten!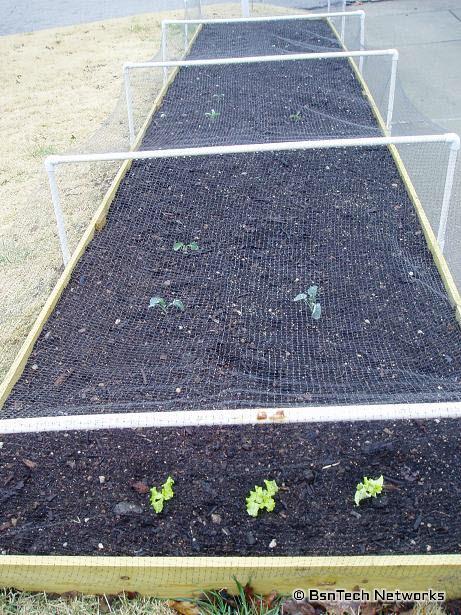 In addition, it has been quite windy lately and also has still been getting down into the middle 30's at night. Some of the cauliflower may not like it – I need to look up to see what causes the leaves to curl in like they are here:
When we returned from the weekend trip, I looked at the peas.. wow! All except one of the peas has now sprouted in the area just next to the house. But, for some reason, not ONE has sprouted against the back of the garage. Maybe the house is keeping the ground warmer next to the house.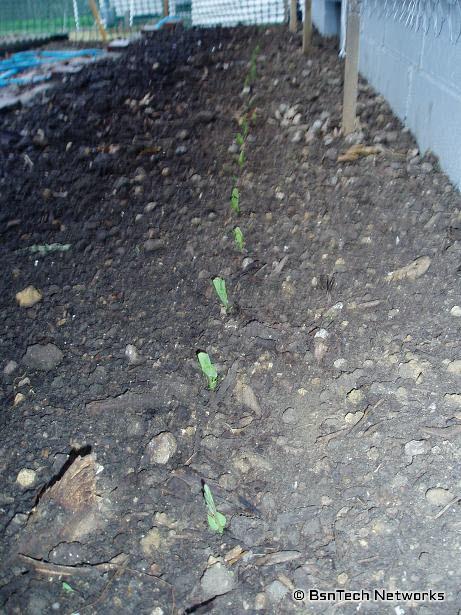 Yesterday, since the weather man said it was to be in the 70's at the end of the week, I also got the potatoes and carrots planted in the box on the back driveway. I opened the Kennebec potato bag and there were already large sprouts everywhere! I have had them stored for over a month now – I just hope that they still sprout and will live. I put four of them in a 2 x 3 foot area in the box where the potato box was built, and then about 400 carrots in the 13 x 2 foot area. I still will maintain the clear plastic over the carrot area until they begin to sprout, this way it will help hold the moisture in until then.