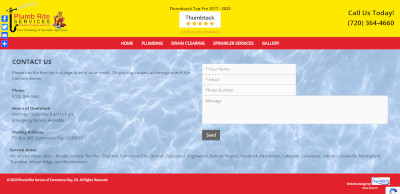 Dan, the owner of Plumb Rite Services in Commerce City, CO – contacted us back at the end of January inquiring about our website design services.
We sent him some information about the pricing and process along with a couple of website examples for other plumbers we created. We continued communication for a couple months as we exchanged other website examples and info on how he wanted his site to look.
In mid-March, Dan was ready to get started. He supplied some initial information – then his business got very busy and he needed to take care of his customers (they come first!).
Today, we finalized the rest of the website and it is launched!
The site for Plumb Rite Services is at plumbriteservice.com.