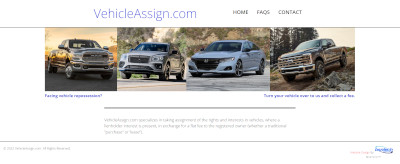 Joseph, a current customer of BsnTech Networks, contacted us last week to get an estimate on a new venture he wanted to start – VehicleAssign.com. In this new venture, his plan is to assist consumers that are facing vehicle repossessions – where Joseph will take over the assignment of the vehicle and pay the registered over a fee.
Joseph had all of his information ready and after a few domain searches, he chose one and moved forward.
The website is a simple three-page website with a contact form and mobile device compatibility. We had the website mostly completed the same day he placed the order – and then we assisted with creating a banner graphic on Monday of this week.