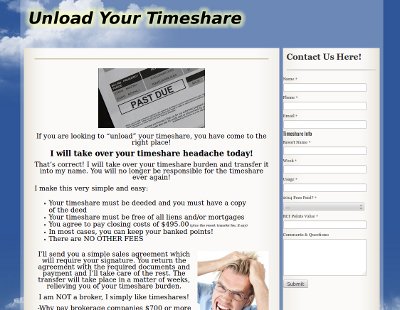 Kevin contacted us late in the afternoon yesterday needing some help making a single landing page for his business.
He already installed WordPress and a theme, but he was not sure how to proceed with getting the information on his site or putting it in a presentable form.
Upon receiving the initial payment, we got to work right away on his landing page.
Just this morning, we fully completed everything with the landing page. Kevin took a look at it and was very surprised with how fast we worked and the quality of the work that was completed.
He praised us in an e-mail – saying "Thank you so much for your help and your lightning fast service!!! I will certainly think about switching the hosting over. We may be adding several more sites soon, as the budget permits.".
Thank you Kevin for your business and we look forward to any other website and graphic services that we can provide!

Kevin's website is at unloadmytimeshare.com.