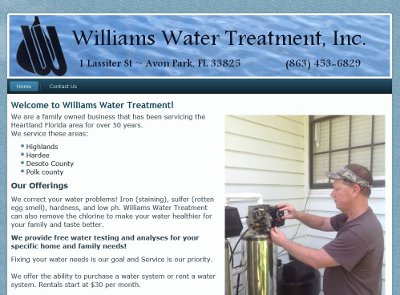 Bill from Williams Water Treatment in Avon Park, FL contacted us a few weeks back about getting his business online. He is a local water treatment specialist that provides services and equipment to ensure healthy water in both residential and commercial locations.
Bill sent us the information and graphics that he wanted on the website – and we got to work right away.
Within only 24 hours, his website was fully up and ready for his review. Bill requested that we make a few small changes to the site – but otherwise it was perfect!
We appreciate the trust that Bill placed in us for making him an affordable website for his small business.
His website is at williamswatertreatment.com.