I took some photos back on the 30th of August and am just having a chance to post now.
This year – our Granny Smith apple tree seemed to be 'loaded' with little apples. I was hoping that they were going to get larger, but they never did. That makes sense though – because the apple tree that I bought was put on a "semi-dwarf" rootstock. That means that they took the main plant when it was growing and spliced it in with a root that was small. That effectively limits the growth of the tree. That is good though – because there are power lines directly overhead the tree. And the semi-dwarf rootstock will allow for up to around 15 feet of growth.
But the sad consequence is that we are going to have apples that are maybe half (or smaller) than the size of a regular apple.
It is free fruit though! I picked about a dozen apples from the tree. Because I don't spray or use any pesticides, some of them did have holes and chunks taken out of them.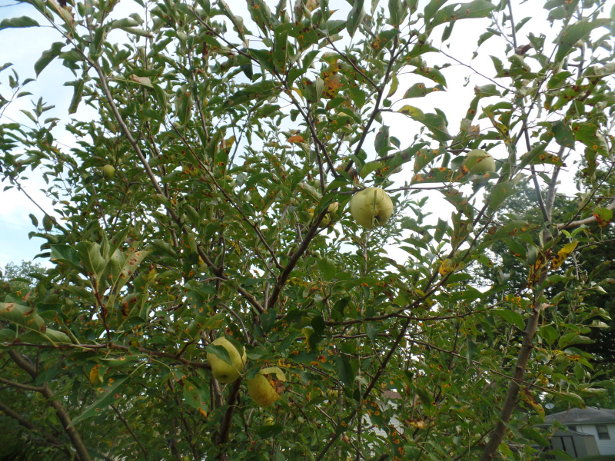 On the same day, I also picked a decent amount of tomatoes. So they are side by side: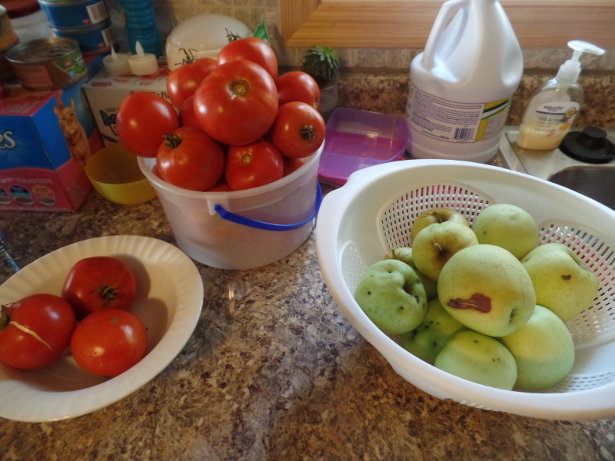 There isn't much left of the garden – essentially only tomatoes and green beans. The green beans I have let loose – and they are now going to seed. This way I'll have seed to plant next year without going to the store and buying it.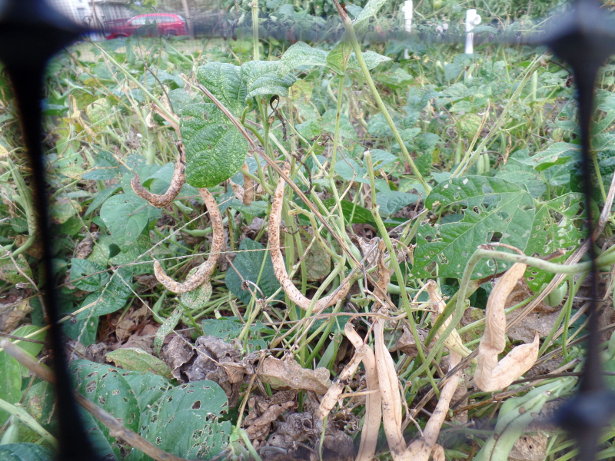 You can see that the pods are all turning brown and drying out – then I can open them and harvest the seeds.
The four Best Boy tomato plants have done pretty good this year. Considering we haven't had tomatoes for the past two years due to deer, it has been great. There are lots of green tomatoes on the plants and we've picked probably three or four dozen tomatoes so far. The weather significantly cooled off the past few weeks so I am not sure how many more tomatoes are going to fully ripen.
Another just another picture of the front garden: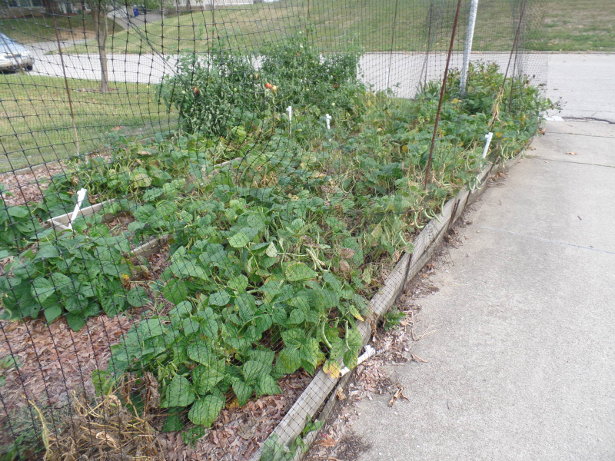 The last picture is from the onions. A couple weeks back, I spent a good amount of time cutting the tops off the onions outside. They have all been sitting on the outside table for several weeks to allow them to dry. So it was time to clean the table up.
Overall, the Walla Walla Onions did very good this year with over 100+ harvested. A good handful were very large but the majority were smaller.