It has now been 12 days since the Varsity onions have been planted. I'm quite surprised – because there are currently only 22 onions that have come up as of today. It seems that between three and four have been sprouting over the past five to six days. It will be very hard to do a good comparison against the Varsity onions and the Copra onions with only 22 Varsity onions versus the 140+ Copra onions.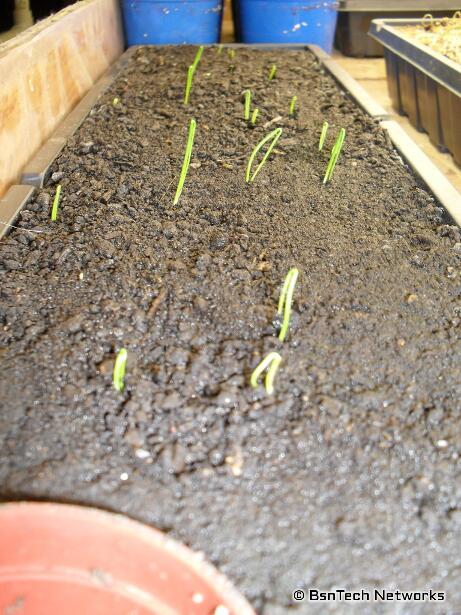 The Copra onions are still coming along well with most putting on their second set of "leaves". I haven't trimmed these back at all. Last year I kept trimming them back to between two and three inches tall.
And lastly for onions, these onions are a little over two months old now – well, since they were started anyways. They were started back around December 18th and they are still growing strong. They are unfortunately root-bound though, but I hope by feeding them compost tea for another month and a half, they'll survive in their small containers.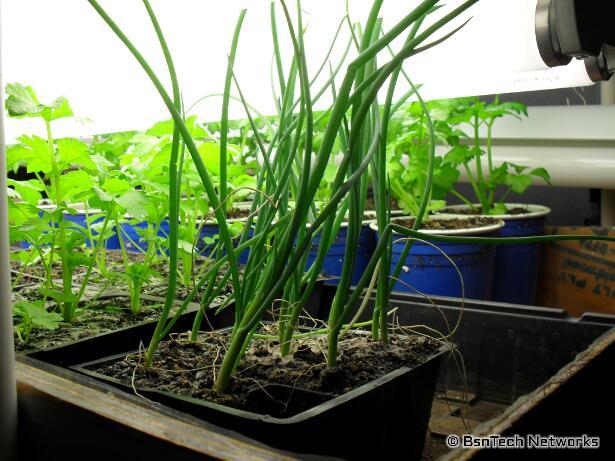 Look at those plants behind the onions! Those are the Ventura celery plants. You can see in the back that I have transplanted some of the celery from the black three-packs (seen on the very left where other celery is) to the blue 16-ounce cups. The celery that was transplanted was also planted back around December 18th – so they are two months old as well. The roots were coming out of the bottom of the three-packs – so they had to be transplanted. Hopefully they will survive well in the 16-ounce cups for another month and a half before they are transplanted to the garden.
And a look at the other celery plants. These are between two weeks and six weeks old.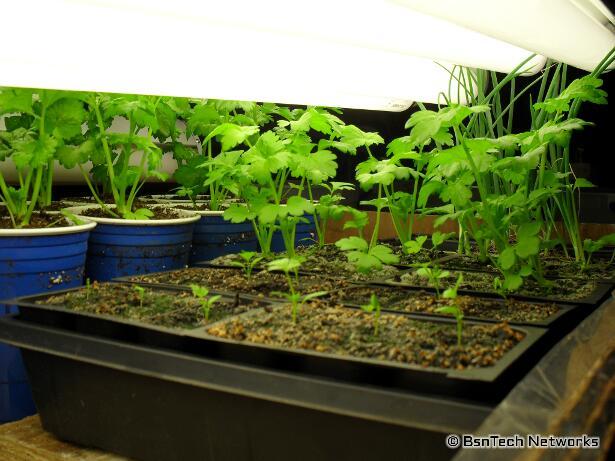 With all of the time, effort, and growing space for these Ventura celery plants, I certainly hope they pay off this year! I only have growing space for about 18 of these plants if I plant them one foot apart. But I'm thinking I'll try to squeeze them to maybe 10 inches apart – which will allow me to plant an additional four celery plants. Currently I have 12 two-month old celery seedlings, approximately 10 month-old celery seedlings, and 10 two-week old celery seedlings. So that is 32 – and I may only get to plant 22. I planned for a good buffer in case I had trouble growing celery this year – but alas, I was very successful with high germination rates! The key to growing celery from seed is that celery seed MUST have light. I soaked the seeds overnight in water and also soaked the growing medium from underneath – so it was fully saturated. Then I placed the celery seeds right on top of the soil and just barely pressed them in to the soil to make good seed-to-soil contact. But they were still lying right on top for the light to penetrate. Last year I had very low celery germination (about 44%). This year the germination rates have been at a remarkable 89%.