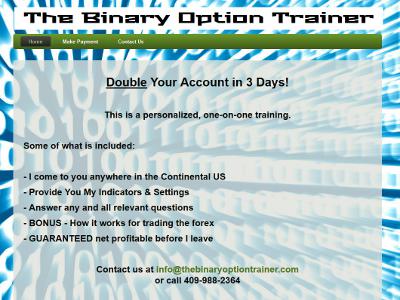 Jon-Paul wanted to start out on a new endeavour that he has experience in – binary option trading. His goal is to be able to provide training for individuals across the country – and he will even fly out and teach you what there is to know! He also has a guarantee – that you will make a profit on it by the time he leaves.
Here at BsnTech, we were happy to assist Jon-Paul with creating a cheap website design. Although he did use a few other features, the cost was still minimal. Most of our customers want at least a little more with their website than our basic three-page web design package. Jon-Paul chose to have basic PayPal integration so his customers can pay him – and also a contact form so individuals can inquire right from his website.
We are very appreciative of the business that Jon-Paul has given us to create a cheap web design for him.