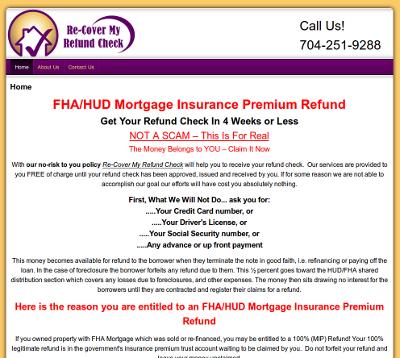 Ovella has a start-up business to help others. Her business is geared towards helping individuals recover their mortgage insurance premiums in the event they have an FHA or HUD mortgage on their property. Ovella also strives to let it be known that there is no fee for her services until the customers actually receive their check in the mail.
Ovella had us create a website, provide her domain name, her website hosting, and also create a logo for her. She is exceptionally pleased with the work we did – and the fast turn-around time. Everything was fully completed for her within four days.
In a few different e-mails, she had positive reviews. One e-mail she simply stated "You did an awesome job.". Another e-mail from her said "Thank you so much for everything… I feel so blessed that I found you!!! You are truly awesome!!".
We love to hear positive feedback for the affordable website design that we provide to customers. This is why we are in the business – allowing people to realize an opportunity or a dream to have a business and to get a website for a fair price. No where else can you find a cheap website designer that stands by their customers and provides quality work.
Ovella is so pleased – that she indicates there is another project that she is going to have us complete for her as well. We look forward to her additional business – and possibly some referrals!