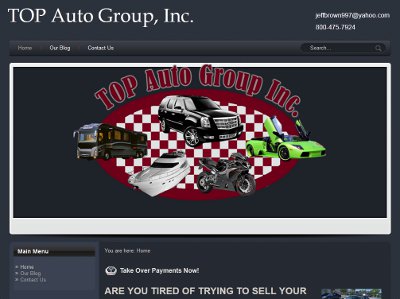 Jeff from TOP Auto Group, Inc. located in Scottsdale, AZ contacted us to setup a cheap website design for him. As he promised last week, he was very happy with the logo design that our graphic designer created for him and he said a website would be pending.
Just a few days after, on Saturday, he contacted us to get started on a low-cost website design for him. He made the initial pre-payments required and we got started on his website right away.
The website was just finished up today. However, he requested that the site not be made live or published out to the public – but wanted to be able to use it to show possible investors at the current time. So we set him up with a private website link so he will control who can see the site by giving out the link.
Jeff has indicated that this was just a quick, cheap website design that he wanted for now – but once his business takes off, we will be making a more detailed website for him with many other features and functions.
We appreciate the additional business that Jeff has given us – and he was happy with the work we did that he said "Very nice looks you did a GREAT JOB!!!!!".