Since there isn't much I can do during the winter time around the house, I opted to get out some seeds and test them for seed viability.
Onions are known to have a very short life span – and it is said that you are usually lucky if onion seed lasts one year.  Lettuce seed is typically good for 2-3 years from what I've read.
A few months ago I also tested some other seeds – such as the California Wonder peppers and some Danvers carrot seed that I've had in the freezer for a few years.
So I got the "heated greenhouse" out and put it in the front window.  The "greenhouse" has a plastic clear cover over the top of it and a heating mat under it.
Originally I put this downstairs on our unused deep freezer.  The greenhouse got to over 90 degrees with the heating pad under it!  The basement seems to stay between 65 and 70 degrees most of the time.  So I modified the timer and had the timer one for 30 minutes, off 30 minutes throughout the day and night.  This helped to regulate the temperature for the greenhouse and the temperature never got to 90 degrees again – but fluctuated between 72 and 85 degrees.
Then I tried a different approach – I brought the greenhouse upstairs and put it in the front window.  Well, the front window is very drafty and got down to 56 degrees when the timer was set to be on for 30 minutes, off for 30 minutes.  When the heating pad was on, the temperature only managed to get just above 60.  This just won't do.
So I turned the timer on for 24 hours a day.  Now the temperature fluctuates between 70 and 84 most of the time.  Of course, it is lower at night when there isn't any sunlight and it is cooler outside.
Three-Four days into the process, I already had sprouts!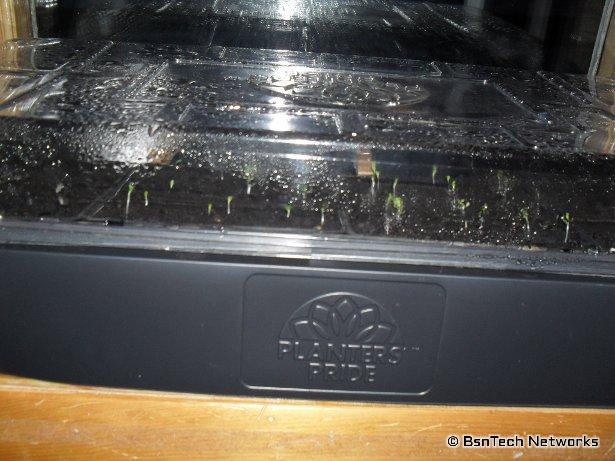 On the left is Buttercrunch lettuce and the right is Simpson Elite.  Within four days of sowing these, all 18 Simpson Elite lettuce have sprouted!  Amazing for seed that is now two years old!  The Buttercrunch is doing alright – but only 16 of 18 germinated.  Still not bad – but this seed was received in January 2010 so it isn't even a year old yet!
On the very left of the greenhouse, I have 18 Ventura Celery sprouted.  I placed the seed right on top of the soil because from previous experiments, celery seed needs light to grow.  So far, there hasn't been any germination.
Then to the very right of the container, I sowed some saved basil seed.  Last time I was testing seed germination, only a few of the basil seed came up.  Just like then, none have come up so far in six days.
And lastly – in the back to the right side (can't see it very well), I planted 18 Copra Onion seed.  This seed was also received in January 2010 (less than a year old) and 10 of 18 have germinated so far.
The reason I am testing the seeds – is because I need to know what to order from the seed companies this year.  I may have to buy some more celery seed (which is kind of expensive unless you buy it for eating purposes!).  I already know I'll be ordering more onion seed this year – but I'm going to try a different variety – called Varsity Onion.
I used Copra Onion this year and based upon my previous post where I had the average bulb size, the Copra Onion average sizes came in less than I expected – 5.55 ounces.  So, FedCo Seeds has a new type of onion – called Varsity Onion – that I noticed in the catalog.  It takes slightly longer to fully mature, but it is said that Varsity Onion seed has the same storage length as Copra Onion (that means they can be stored for a long time!).  In addition to that, the catalog also says that the Varsity Onion seed averages 12 to 16 ounces – and can get as big as 1.5 pounds!  Now that is more like it!  I'm hoping that I have good success with this onion – but I still do have some Copra Onion seed left so I will be planting them side-by-side in trials to really see if there is much difference.
---
November 17
Today there have been quite a few changes.  One sweet basil seedling has come up and there are now 14 out of 18 Copra Onion seedlings up!  Over on the right side where the celery is, there are approximately 4 out of 18 Ventura Celery that have sprouted.  They are so tiny right now that you can't see them though.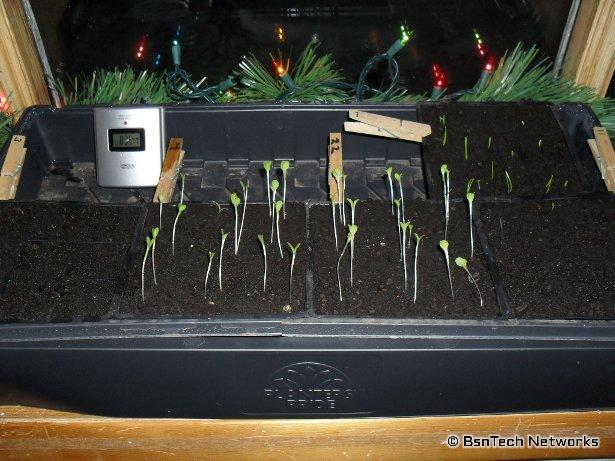 You can barely see the small sweet basil plant on the right side just before the onions – just a little white mark in the picture above.  The temperature gauge is showing over 80 degrees. And here is a closer look at the onions:
In the picture above, you can see the small sweet basil seedling at the bottom right side.