Well, 2010 is now here and it is time to get things ready to go! I'm going stir-crazy sitting in the house without much to do – except my two lettuce experiments.
So, over the weekend I built a seed-starting box. It is 20 inches wide by four feet long and it is four inches deep. It was made out of some old wood I had around the house. The two short sides and the bottom were made from old 1/8" paneling and the longer sides made out of some old 1/2" plywood that were once used as doors.
The idea with the box is to allow me to fit all of the little seed starting containers in here without any water leaking. I've always had to use large rubbermaid lids to put under the little containers, but there was a lot of unusable space under the grow-lights – so this maximizes space. Once the time grows nearer for starting the seeds, I'll put some plastic along the bottom and sides of the grow box so any excess water will accumulate and will not leach out onto a table.
So, here is the glory of all of the stuff. All of the stuff is in the newly-created box in the first picture: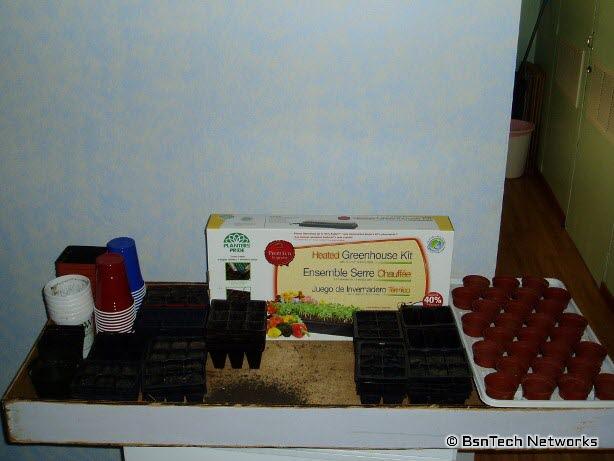 I have quite the assortment of items over the years. Most of them are the black plastic packs in various sizes. Last year I bought the greenhouse kit and the brown-looking cups on the right-hand side that is like a self-watering system with the tray underneath.
Wow – quite a bit more stuff! After I brought all of the containers in the house, I spent well over two hours with some hot soapy water and cleaned out every single container. I know I have more than enough for all the seeds this year.
Above is about how the box will look. I'll hang three two-tube fluorescent lights over the growing area and that should do it.
I thought I would now show the types of containers I have and used throughout the years.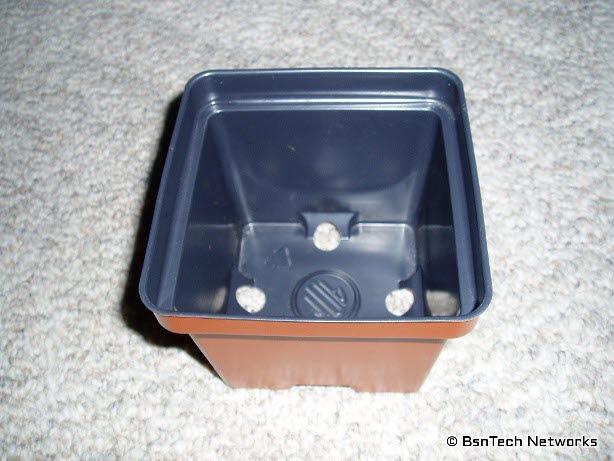 Just a standard square plastic pot. I have nine of those. A total of nine seedlings could start if one was planted individually in each.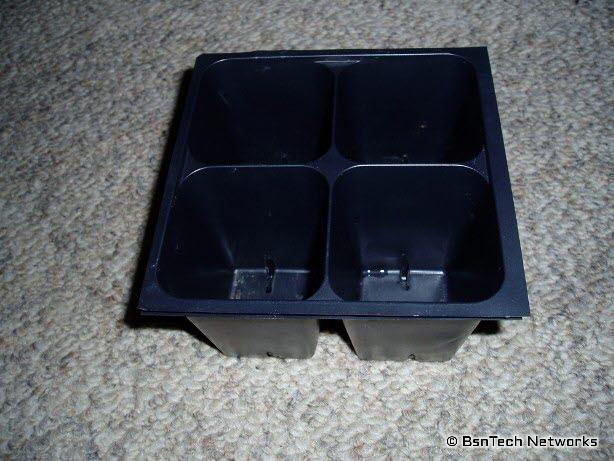 Above is a "four-pack" and it is 2 x 2 in dimension. I have three of these. A total of 12 individual plants could be started in these.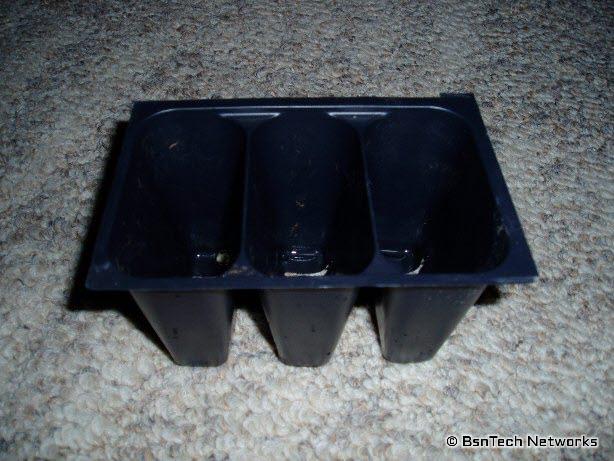 Above is a 3 x 1 container. I have 24 of these – so I can plant 72 total plants in these.
Above is the typical six-packs where they are 3 x 2. I have a lot of these – 33 total. I can plant 198 plants in all of them!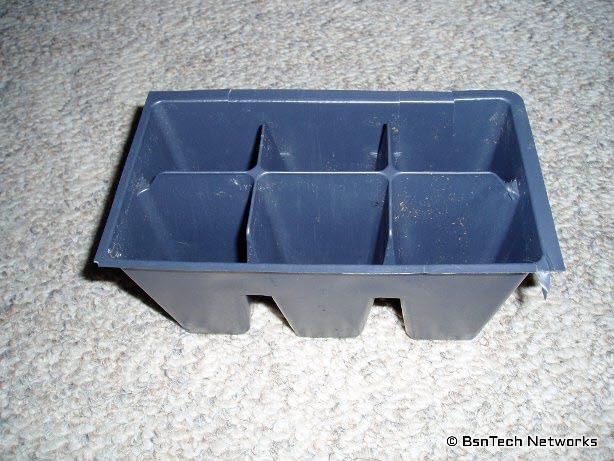 Above is a wider variety of the six-packs. Also is 3 x 2 in size but these are wider. I have six of these total – allows for 36 plants total.
After seeing the photo of the 3 x 3 containers above, I didn't to a very good job of cleaning them! These are the newest ones I have and came with the greenhouse kit and two other trays I bought last year. I have 16 of these – so a total of 144 plants can be seeded in them.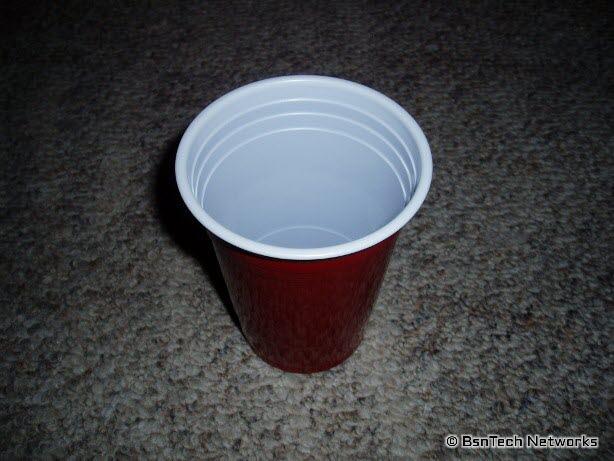 Just a standard 16-ounce cup. I bought these last year and have lost one – so I have 35 of them. These were used for the broccoli, cauliflower, and tomatoes last year. They take up too much space so I'm hoping to put the tomatoes and peppers in other containers this year – and then maybe pot them up in these if necessary.
The neighbor gave me some of these cups last year after he purchased some plants. So I have seven of them.
And lastly, the 28 small cups in the self-watering tray. The cups sit just a little higher than the bottom of the tray so you can pour water into the bottom and it will navigate through all of the holding areas and keep some water available to absorb into the containers. These also take up a lot of space – but I started the tomatoes and peppers in these last year.
---
I couldn't believe how much stuff I have accumulated throughout the years! Most of the stuff I've never bought and just re-used. I got most of them from my mom for when she bought flowers in the black containers.
So out of all of the containers, I could start 541 seeds using all of them! I don't have nearly that much space in the 49 x 20 inch box I made to put under the lights. But I should be able to fit around 200+ in the box.
Hopefully there will be enough space for all of the seeds. This year I'm going to try to plant Copra onion seeds instead of buying sets – as it is rumored that the bulbs can grow larger and Copra is one of the longest long-day storing onions available. Unfortunately, the onions themselves will take up at least 100 of these spaces!
I've also been debating about starting all of the peas indoors before planting them out as well – just to ensure I use maximum space in the garden to prevent areas where a seed doesn't sprout (I had issues with this with the beans last year). If this is the case, there goes another 120+ containers! Wow – how quickly everything gets filled up. At this rate, I may have to make another box and buy more lights (I sure hope not).
So, it is now time to 'hurry up and wait' before planting can begin. The first that will be started will be the onions – and those will be done around the beginning of February. They have to get big enough to transplant out in the garden from the little tiny seeds.
---
On a last note, I placed an order for seeds over the weekend as well. This is the first time I have purchased seeds online (except for the Sugar Dots corn last year) for most of my plants. I did so through FedCo seeds because the price of the seeds were very low and shipping wasn't bad. They had the Copra onion seeds so I purchased $15 worth of seeds for green beans, peas, cilantro (new for this year), celery (new for this year), onion, carrot, and two lettuce varieties. So 11 packages of seeds were purhchased for $20 with shipping – that is very comparable (if not less expensive) than what they would have been purchasing them at the local store.