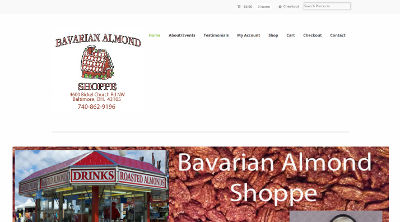 Keith, a representative working on behalf of Bavarian Almond Shoppe, contacted us Tuesday this week in desparate need of some help to get a website finished up.
Keith was building a website for Bavarian Almond Shoppe and the owner was scheduled to drive a few hours to meet him on Thursday (yesterday) to see the completed website and go over how to manage it.
Unfortunately, Keith was having some issues with several aspects of the website and needed to have the items fixed quickly.
Upon getting the full list of things that needed to be done, we got to work immediately on the site and met the deadline with an extra day to spare. Keith needed us to help with these matters:
Remove the ability for comments to be posted except for on a Testimonials page
Remove the sidebar on the left side of all of the pages
Fix some of the HTML formatting on the About Us page
Get the form on the Contact page to function and send e-mails properly
Setup the site to use an SSL certificate for the Checkout page
Integrate the payment gateway and get it configured so orders could be placed
Setup shipping rates for product orders
The majority of all the requested changes were done within an hour or two from our phone coversation while the payment gateway took a little bit of investigative work to get fully configured and tested.
In the end, Keith was very happy with our response and how quickly we got things done on the website.
Bavarian Almond Shoppe's website is at bavarianalmondshoppe.com.