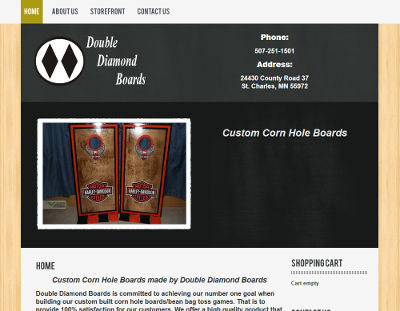 Wayne and Michele, owners of Double Diamond Boards, contacted us a little over a week ago in regards to having a new website created for their business. When they first started out, they created a simple website at GoDaddy. But it was needing a major facelift and it didn't allow them to take online payments.
Now that their business has grown, they were ready to get a new site created that had the eCommerce capabilities and payment integration built-in. The site also uses the FedEx automatic shipping calculator so the customers will be charged accurately for shipping.
We got to work right away on the site and put in approximately 90 products on the site for customers to choose from. Of course, they also have a custom corn hole board option where the customer can then provide the artwork to be put on the board.
Wayne and Michele are very excited to start using the new site – and we just published and made it live today!
In an e-mail they sent to us Monday, August 4th, Wayne said:
Good morning Brian,
Michele and I want to thank you for doing such a great job on the website. We took an order yesterday and it was so simple. We absolutely love it. I'm sure we will maybe be making some updates as far as pictures and such in the future but we can't thank you enough for the great work. Have a great day 🙂 Wayne
The Double Diamond Boards website is at doublediamondboards.com.