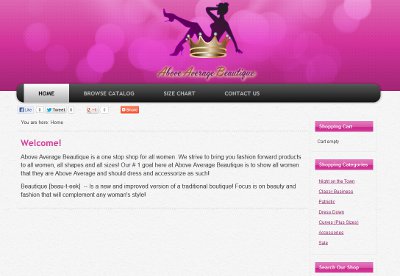 Angela spoke with us over a month ago about how website design worked. She was interested in launching an online eCommerce website to sell clothing and accessories to 'above average' women of all shapes and sizes.
Angela chose us to proceed with creating an eCommerce website design for her in addition to a customized logo design. Our graphic designer created the logo to Angela's exact standards and she was pleased just after the first mock-up logo design!
Angela let us know exactly what she was looking for with the site and began sending us the information to get it up and running. After everything was done, she was exceptionally pleased with how we gave her just the site she wanted with such fast turn-around.
Her store is not yet ready to be open for business, but it is online and ready to go! Eventually, Angela will be having us add the products to her website and she'll "open her doors".
We appreciate the vote of confidence from Angela for our logo design and eCommerce website design services.
Her website is at aabeautique.com.