The first produce of the year finally arrived from the garden today – Tri-Star Strawberries! The plants are doing exceptionally well and they have loads of strawberries started on them.
I picked one pound, 1 1/4 ounces of strawberries.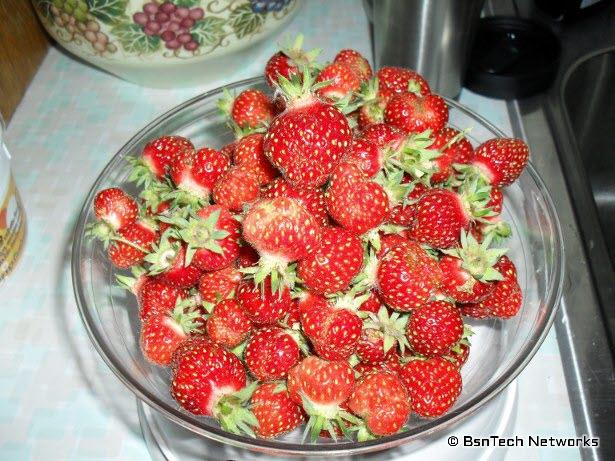 In other news in the garden – all seven of the tomatoes in the garden already had blooms on them – the Best Boy, Roma, and Red Cherry tomatoes. I'm hoping that the plants are not overly stressed and hope they continue to grow. They have been out in the garden for about three weeks now. We had some high temperatures at the end of March/beginning of April in the mid 80's. Shortly after, the temperatures went to more seasonal temperatures of high 60's to lower-to-mid 70's. There have also been two nights since that got down to about 36 degrees.
So, I pinched off the blooms so the plants put their energy in growing – not producing.
So far 29 of the 50 Greencrop green bean plants have sprouted – took about 10 – 13 days. 42 of 43 Sugar Dots corn have sprouted and only 28 of 43 Silver Queen corn sprouted. I'm not sure if the seed from FedCo seeds is very good now that I'm seeing poor germination rates in about everything from them. The Sugar Dots corn seed is a year old and was purchased from another place – but yet germination is almost 98% whereas Silver Queen is only at 65%. I had to re-seed the areas where corn did not come up because I want to ensure all of the space is used.
I messed up with the lettuce this year. The plan was to have one Simpson Elite, Buttercrunch, and Red Salad Bowl lettuce planted every week for the first 4 weeks. Then I'd plant one of each every other week. Right now there is a good-sized Buttercrunch, one small Red Salad Bowl, and two good sized Simpson Elite plants – but just not enough to harvest and make a salad from. Last year I planted 12 Simpson Elite all at once and I was picking at least a pound of lettuce each week. I might just be too pessimistic and should allow more time for the others to come up – but we would have plenty of lettuce if I planted 12 Simpson Elite!