On Saturday and Sunday, the weather was very nice! It was pretty windy with gusts over 50 miles an hour, but it was in the mid-60's on Saturday and over 80 degrees on Sunday! Then we finally got some rain Sunday night – which filled the rain barrels about 1/3 of the way up. Not sure how much rain we got – but I'll take it!
Monday the temperatures then dropped to just above freezing overnight. But, the rest of the week is to be nice and reach into the 60's during the day.
Therefore, the opportunity arose to finally get some more transplants outside.
Let's start off with a picture of some of the daffodils in the flower bed up front. I may have to use some of the flower bed this year to plant onions – since I still have about 50 onions in the germination station!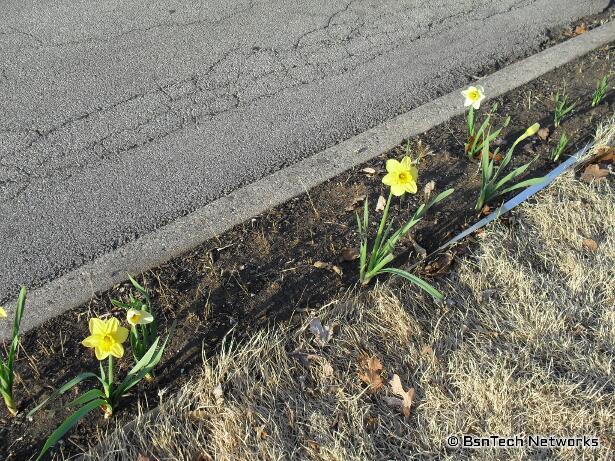 I'm not sure what is going on with the onions – but every single Copra onion that has been transplanted has begun to turn brown. This only just occurred over the weekend – so I wonder if it was because of the wind – or maybe I'm watering them too much.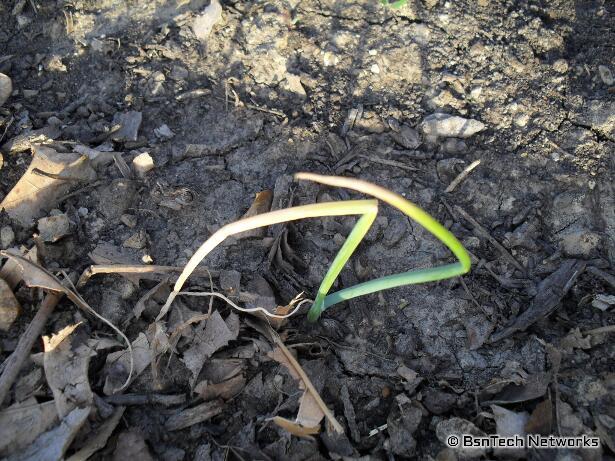 But, overall, I haven't lost an onion yet that was transplanted – so that is good!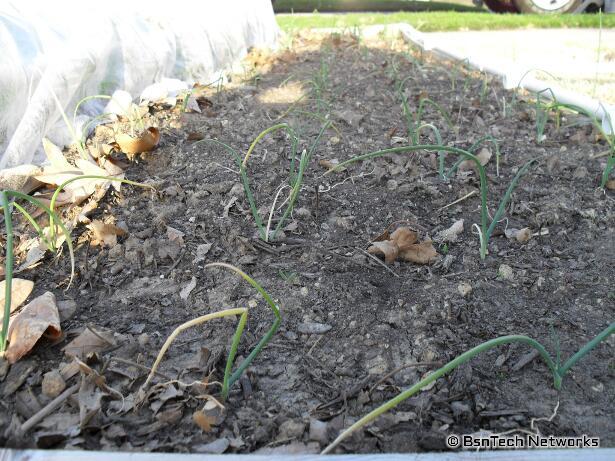 On Saturday, I went to Maske's Organic Gardening and purchased another row cover. This one will be used for the 8 x 4 raised bed on the driveway where the lettuce will be planted. Speaking of that – I put in the first two plantings of lettuce. These were started indoors around March 1st and March 7th (one row each).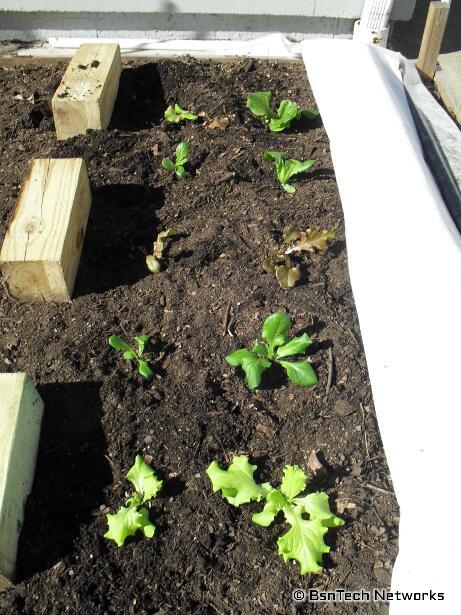 In the front is Simpson Elite followed by Buttercrunch, then Red Salad Bowl, then Parris Island, and lastly – New Red Fire lettuce in the very back. After I planted them, I put in the floating row cover.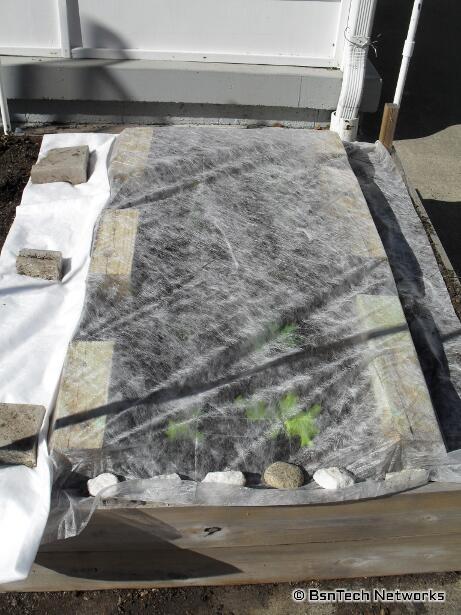 Switching gears just for a moment – the strawberry pyramids are beginning to look alive! The Tri-Star strawberries have been putting on leaves. Luckily it doesn't look like any died over the brutal winter – since I don't cover them with anything.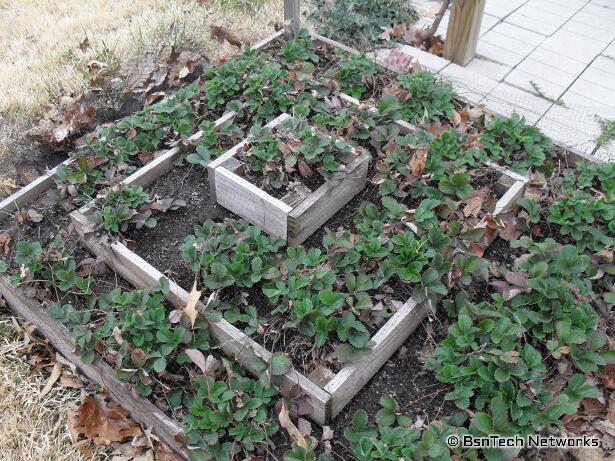 Now – going to the side garden. The Cascadia peas are doing well. As of today, there are 66 peas next to the house that have sprouted – and finally – one has sprouted behind the garage.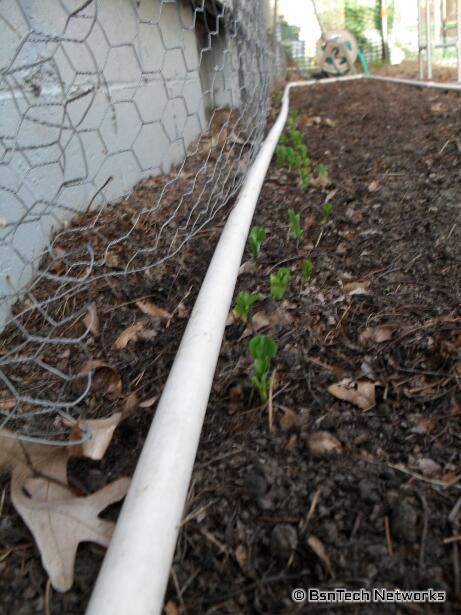 Now for Sunday – I spent quite a bit of time outdoors on Sunday getting things prepared.
I pulled the potatoes out of the fridge and allowed them to dry out. Because they were in the fridge and I had the bag closed, some of them have some mold/fungus growing on them. But, they will be just fine to plant. So, I moved them out of the fridge and they are now in a dark room waiting to be planted this weekend or next.
Yukon Gold potatoes: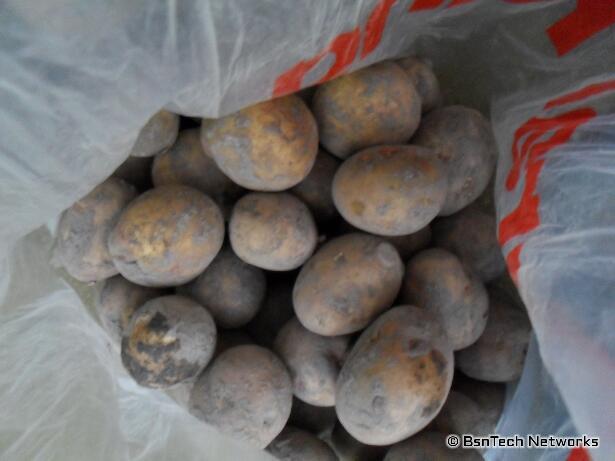 Kennebec Potatoes: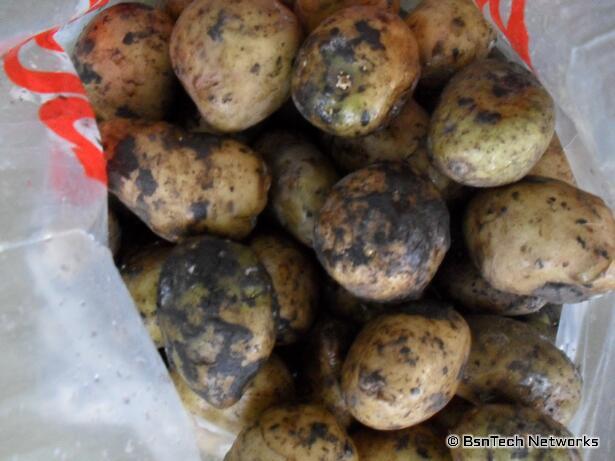 Then, I decided to go ahead and direct-sow some more Parris Island Cos Romaine lettuce into the 8×4 raised bed. I want to ensure the lettuce fully develops before it gets hot outside. So, I planted seven groupings of four – all spaced eight inches apart.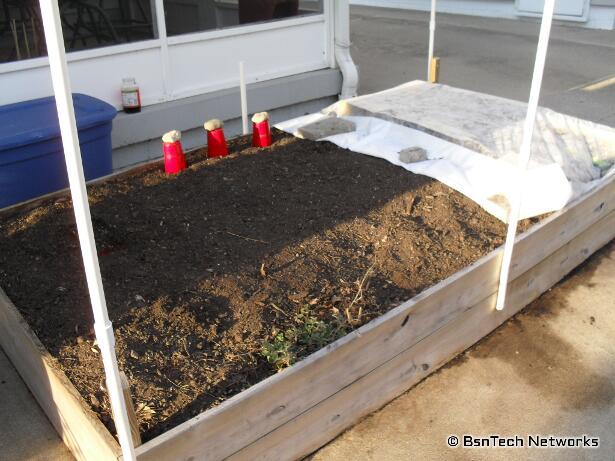 The container that I'll be planting two Anaheim Hot Peppers in was filled with soil and placed just behind the patio bed – which is the blue tote in the above picture. Right now I have the lid on it to keep it from getting water logged from any rain.
Now – for the part that took over an hour to do. I had to use the "claw" garden tool to till up the carrot bed. I put a layer of chopped-up leaves over the area a few weeks ago so it needed to be mixed in. I'm completely out of shape – as I could easily tell after mixing in the soil.
But, I put in 28 rows of ten Sugarsnax carrots – and then 26 rows of ten Scarlet Nantes carrots. The Scarlet Nantes carrot seed is probably half the size of the Sugarsnax carrots – so there were many times I dropped in two or three seeds into each hole. Then the bird/deer netting was placed over the top to keep the critters out.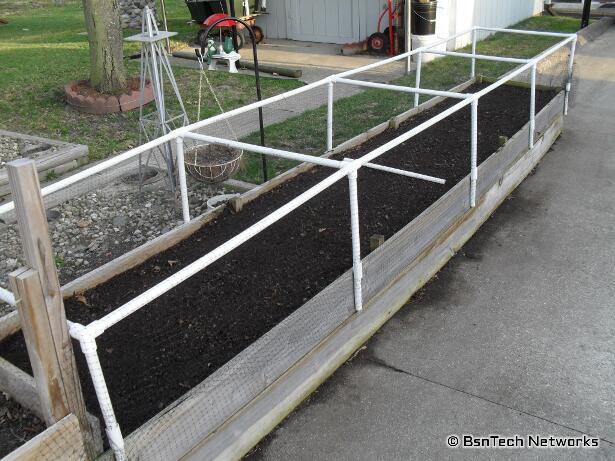 I've planted Burpee A#1 and Sugarsnax carrots side-by-side last year – and couldn't tell any difference in the quality or taste of them. So this year I'm trying the Sugarsnax beside a non-hybrid – Scarlet Nantes – to see how it does. Scarlet Nantes seed is at least half the cost of Sugarsnax.
Moving onto Tuesday's task. Originally, I was going to plant these on Monday – but because it was to get to the point of freezing, I didn't want to transplant the plants to the garden. So, Tuesday I got the Premium Crop broccoli, Snow Crown cauliflower, and Green Goliath broccoli planted in the side garden – where the peas beside the house are planted. In years past, I've separated the broccoli and cauliflower 18 inches apart – but this time I put them 12 inches apart to see how they perform. When watching a "P. Allen Smith's Garden Home" on PBS a few months back, he mentioned that he also planted Green Goliath broccoli – and spaced them 12 inches apart. So I figure if he can do it, I can as well!
Premium Crop broccoli is new this year – and I've always had very good luck with growing Green Goliath. So, I'm going to trial the two and see how they perform.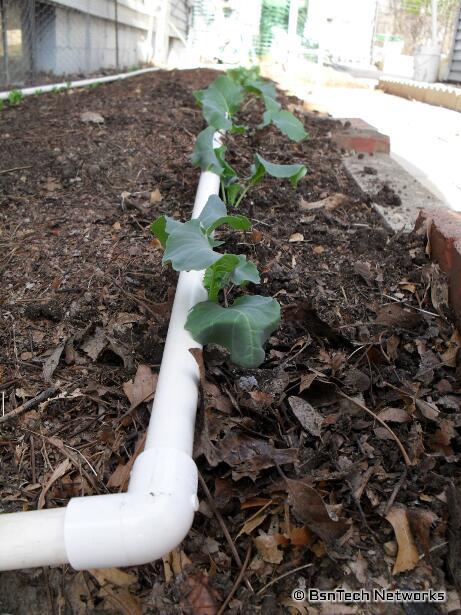 Here are the Premium Crop broccoli plants. They were a good size when they were transplanted.
Compare that to the Green Goliath broccoli. Was very surprised – but the Green Goliath simply didn't grow very well this year before transplanting.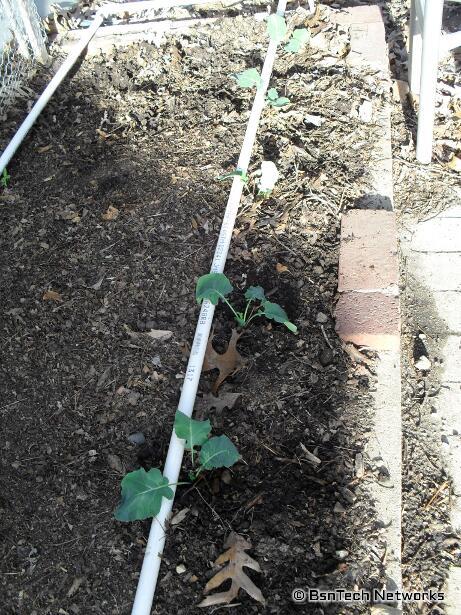 Time will tell to see how they perform!
And lastly – the Snow Crown Cauliflower. These grew larger than the broccoli in the germination station – so hopefully I'll get some good results out of them (and not just small button heads!).