The garden is doing well. The temperatures still have been cooler than average – but we did have a 94 degree day just a few days ago.
The rain has also stopped. We haven't had a decent amount of rain in over a week. Good thing I have the rain barrels ready to go!
Let's start with the lettuce. It was neglected for a while and there was A LOT to pick. But here is a photo showing some of it picked – and some not. We had 8+ bags of gallon-sized bags of lettuce. Gave some to our neighbor and some other friends.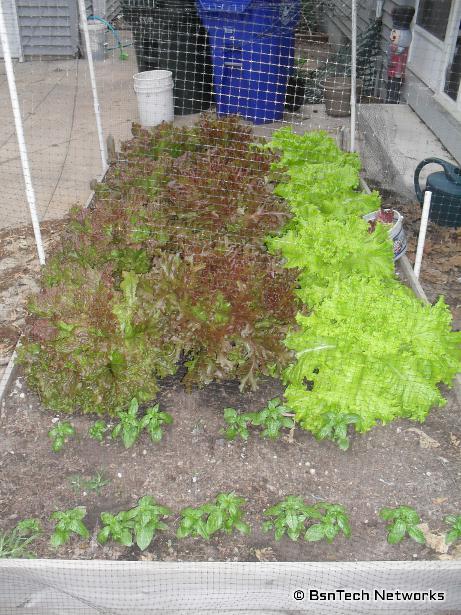 Also seen above is the basil. The basil is still making some progress – but because of the cooler temperatures, it isn't growing as quickly.
Carrots are doing wonderful. The neighbor had a tree that needed to be cut down last year – and it was shading the carrot area until around noon each day. With that cleared out, the carrots have been doing much better this year.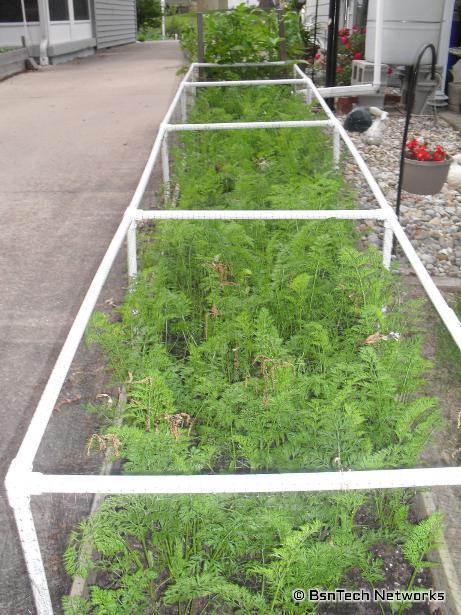 Over by the side garden, the potatoes have really taken over – and the few tomato plants have as well. The Cascadia Snap peas are not doing good. I really expected a very good supply of peas this year because of the lower temps, but that isn't happening.
A closer view of the Cascadia Snap Peas shows they are putting some pods on.
Moving to the back garden – just the typical stuff going on. Lots of greenery, things growing. I did plant some eggplant and cucumber seeds back here a few weeks back. Haven't really looked closely to see if they are growing yet.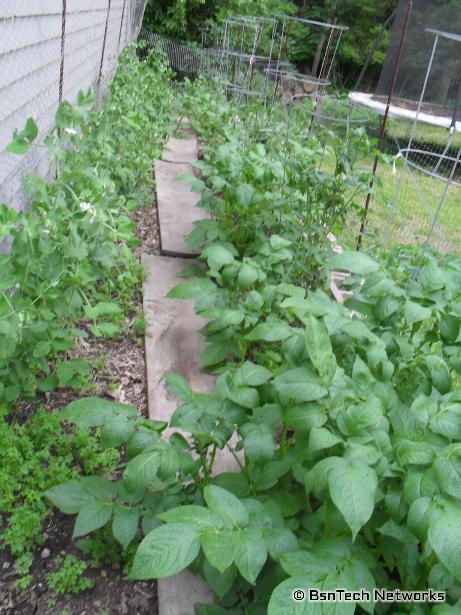 And to the front garden where everything is doing well. I just picked our second Snow Crown Cauliflower today – and picked our first broccoli plant. Not sure if it was Premium Crop Broccoli or Green Goliath Broccoli. I'm hoping for some really good-sized Varsity Onions this year. I spaced them out further to provide more growing space – and I chose to use Varsity this year over Copra to see if that was a better variety.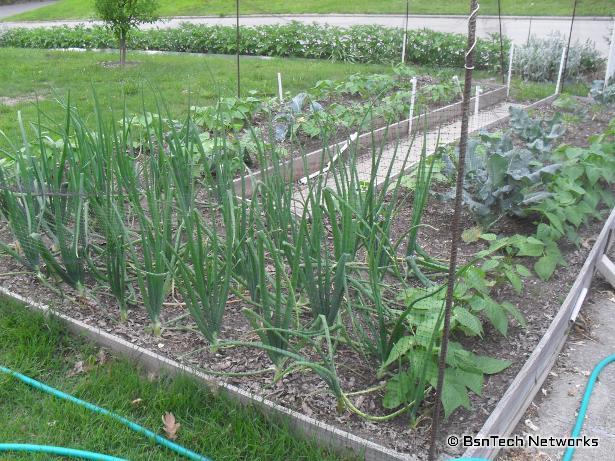 A closer view of the broccoli head:
I took a quick stop over at the Granny Smith apple tree. The deer were leaving it alone – up until this week. Now they are really starting to eat away at the leaves. I am just not sure how else to protect this tree – so I gave up. I've tried several different things and it didn't work. Netting was just getting tangled in the tree and broke branches off. But, here is the one and only apple that is growing on it this year.
And finally – over by the old strawberry pyramids. The Easter Egg radishes are definitely bolting and already have flowers open. Wanting to get some seed for next year and subsequent years. I also need to pull up the second round of radishes – as the first batch has went bad in the fridge. The radishes seemed to last about three weeks in the fridge.