Not too much has happened around the garden except the veggies growing very well! We did plant about 250 seeds of Sugar Dots corn last weekend – and only about 42 of them have come up thus far. About 200 of the seeds planted could have been up to two years old – and out of those, very few have come up. The 50 new Sugar Dots seed that was received this year seems to have about 75% of them up thus far.
Today I also planted 24 more crimson radishes along with three each of the Marketmore 76 and Burpee Pickler cucumbers. The Bush Blue Lake 274 green beans were also planted last weekend – about 83 were planted. Many have broken the top of the soil with a few that have some leaves on them already.
Anyways, here are some pictures of the garden.
Grapes – this one is the Concord Seedless. The Flame Bunch also is doing nicely – although the two runts – the Niagara and Crimson – look completely dead. I wasn't too happy with these two varieties I received from the nursery because they were very small unlike the Concord Seedless and Flame Bunch.

And the strawberries. I just had to replace another one today that was dead in the pyramid. I now have two extras planted in the back just in case another one dies. So far I've replaced two of them.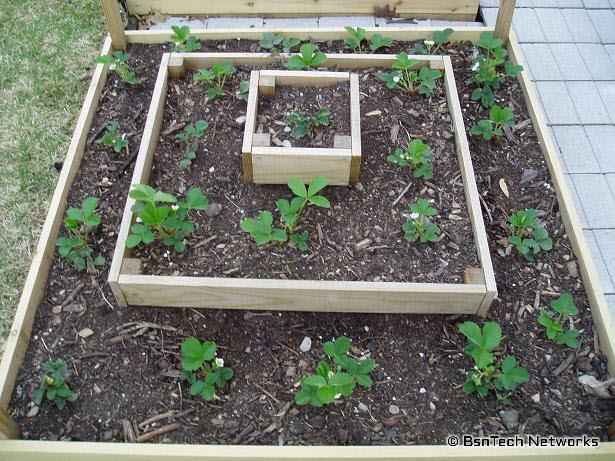 A picture of the green onions in the front, crimson radishes in the middle, and the dwarf gray sugar peas growing in the back. For next year, I will know that I need to start the fencing at ground level. These poor little peas have needed a lot of help clinging and starting their way up the fencing.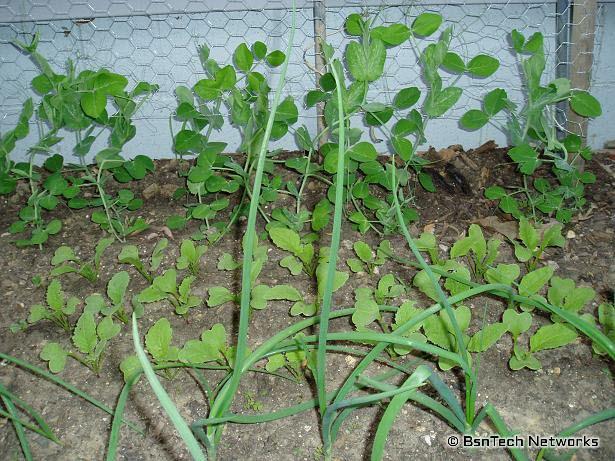 Potatoes are coming along nicely in the potato box. I've been filling the box up pretty good. The one on the bottom right is doing fantastic while the other three are still small.

The carrots are also doing great. They keep on growing!

How about the Black Simpson Elite leaf lettuce! I pulled a large leaf off of each of the 11 plants here yesterday and had a salad for two people. Very fresh.

And lastly – the broccoli patch. The Bush Blue Lake 274 green beans were placed down the entire raised bed here on either side – all six inches apart.