Today's website design post is not about website design – but about website hosting.
I'm fed up needless to say.
People ask my why our website design rates are more if they have hosting with another provider and not us.
A perfect example: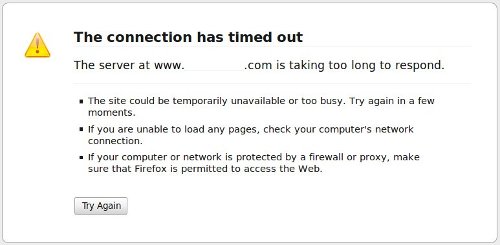 I removed the domain name in this case – as you can tell.
The site has now been down for at least 15 minutes. This has completely killed my ability to work on the site.
This is not the only time it has happened. There have been multiple times – and sometimes cases that involved a lot of lost work from me.
Who is this hosting provider? GoDaddy. Unfortunately you get what you pay for when it comes to website hosting. BsnTech Networks has mirrored website hosting. Your site is always available because your site is on two servers in two different areas – reducing Internet and other issue impacts. Sure, we are more expensive, but it is because we do not overload our servers with hundreds/thousands of websites – and you basically are getting two hosting plans. Still even if you purchased two separate hosting plans with two separate providers, they could not mirror your site like BsnTech Networks can.
In addition to that, the GoDaddy FTP File Manager is limiting. Do you want to make a full backup of your GoDaddy website? Good luck. If it is over 20 MB in size, the GoDaddy FTP File Manager will not let you make a zip file.
But, sometimes, you can't use FTP either – because FTP is down!

What about trying to upload files using their FTP File Manager? Well, I was attempting to upload a 7 MB zip file. Well, it crashes the Adobe Flash plugin. So, I had to resort to using FileZilla – an FTP client – to upload the file.
It is just disheartening to know that they do huge amounts of business and the level of service that GoDaddy provides for hosting is not great.
So, this is why BsnTech Networks charges more for web design when you have hosting elsewhere. We have to 'jump through hoops' to work on your site and in cases, we lose work because of downtime.