Another couple of weeks have passed since the last post.  Last week, I had to take a trip down to Florida to do some work.  But, I came back and the garden seems to be doing well.
Apparently I forgot to take a picture of the lettuce – or I didn't unload it off the camera.  Anyways, our beaver buddy (or whatever creature it is) has stayed out of the lettuce – although he has now moved onto munching on the peas.  The lettuce plants are all doing very well.  Sort of a shame though; we have two heads of lettuce in the fridge and this abundance of fresh lettuce in the garden that has been unattended.
I took all of these pictures a couple of nights ago – just before it got really dark.  So the quality isn't the greatest.
Here are the row of peas.  They are heavily stunted because of the creature making a feast of them.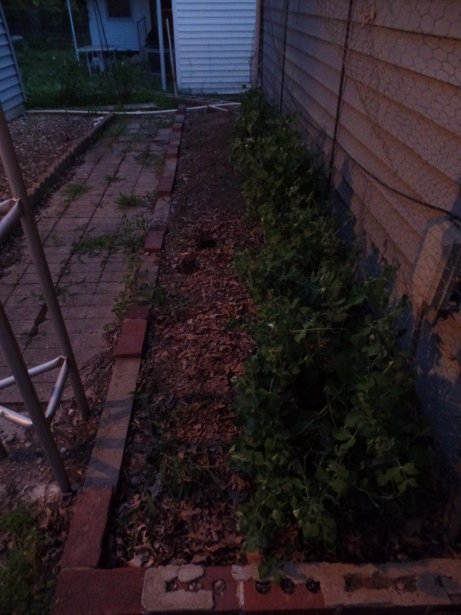 A closer look of some pea pods on the vines.  I actually picked about four pea pods after taking the pictures for a nice, sweet treat.  I picked a handful yesterday to put in last night's salad too.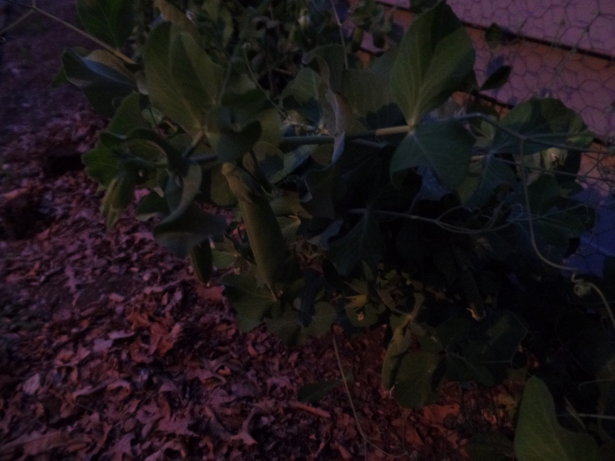 The back garden is overgrown.  A waste this year.  The tomato plants are doing OK, but there were only four or five pea plants that came up out of the 200+ seeded.  I think that the garden behind the house is going to be converted back to it's previous use; just a small slope towards the neighbor's yard.  Keeping this area up for the almost no output is aggravating.  Hey, I have a lot of cinder blocks that will most likely be free for the taking by the end of the year!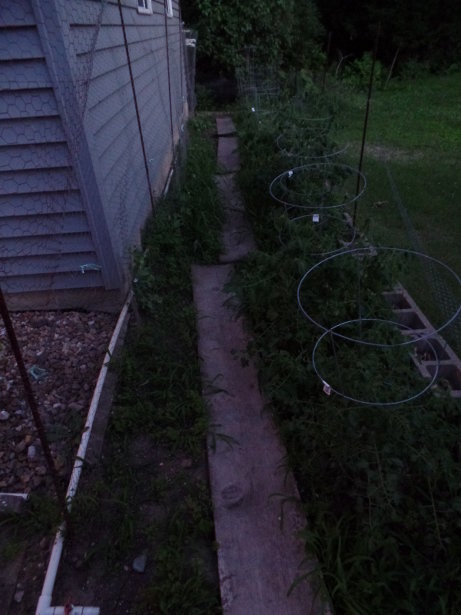 Going back to the driveway, the onions are doing quite well.  This used to be the place where carrots were.  This raised bed sitting on the driveway was meticulously put together several years back – where all of the soil was sifted through a screen to ensure no big rocks or lumps – perfect for carrots.  But, no carrots this year.  Last year's carrots were awful as well.  The bed needs to have a bit of 'topping off' since it is a couple inches lower than where it used to be when new.
But hey, the onions are loving it.  I just recently put a little bit of fertilizer around the onions, tomatoes, and peppers too.  But the onions in this bed are doing better than those in the front garden.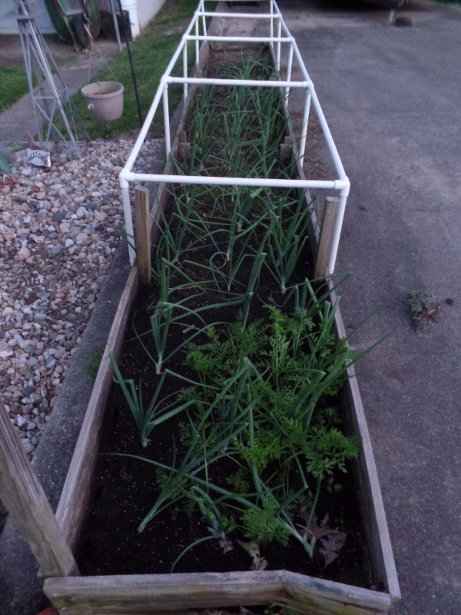 Oh, and there are a few carrots mixed in – as you probably spotted.  Those were put in by our daughter.  I guess she planted some carrots and peas in here before I put the onions in.  Unfortunately, the peas had to be taken out, but I did leave some carrots for her to watch grow.
OK – front garden.  The overall shot shows a lot of good growth: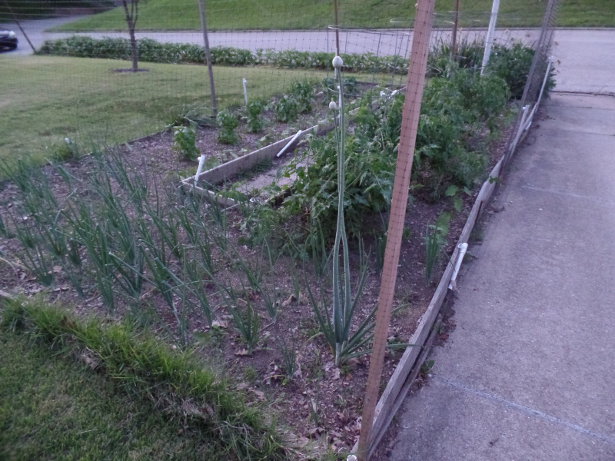 Look at that tall onion!  That was an onion that came up by itself this year – and now it has a large seed head on the top.  I just have left it grow, but it really is useless.  Can't really use the seeds either.
On either side of the beds, the green beans are coming up! I seeded them a couple of days before I left for Florida, and I came back to see that they sprouted very well with great germination rates.
The peppers are doing very well too.  We are having a heat wave today through this weekend – supposed to get up to 97 degrees!  Wow, and it is only the beginning of June.  That kind of weather is usually reserved for mid July.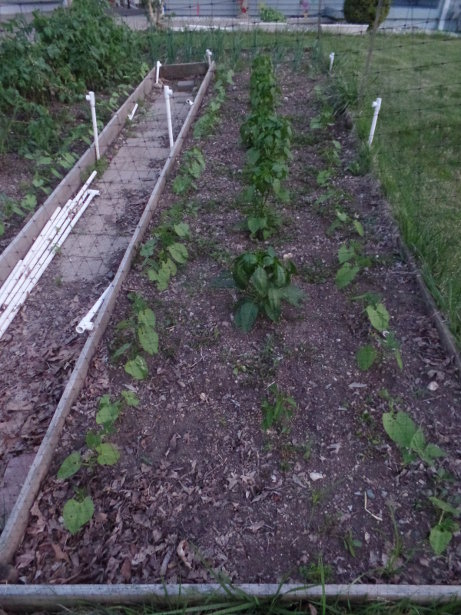 And the tomatoes are doing good too.  Pretty fuzzy picture though.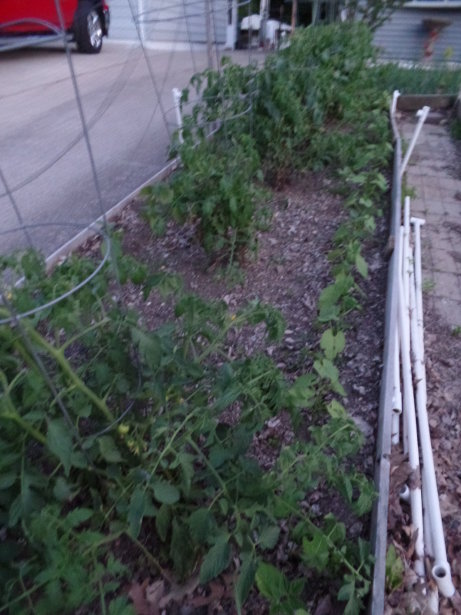 But, look what we have here!  It looks like we already have our first Roma tomato growing on this tomato plant!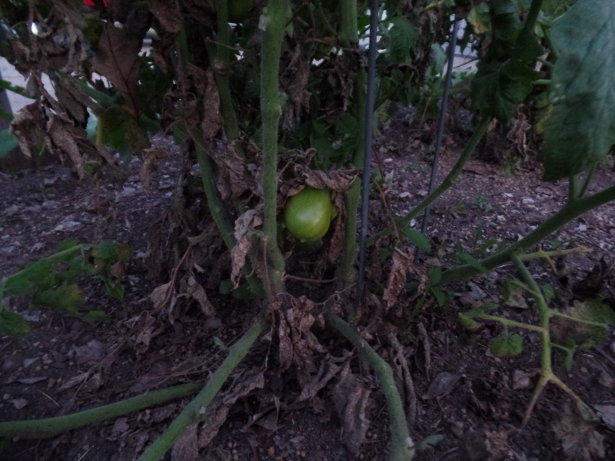 Down by the road, we have the potatoes.  They are all 'mulched' with leaves being put under the plants (also done before I left for Florida).  It is kind of odd, because further down the hill, the potato plants are growing very well.  Then as you come up the hill, the potato plants are smaller.  Hard to tell from the picture, but maybe the water is going downhill and providing more moisture to those at the bottom of the hill.
And we've come to the last picture.  Just thought I'd share some grapes with you.  Our single grape vine left on the grape arbor has completely taken over.  Woops, I didn't cut it back this winter!  But, there are a lot of bunches of grapes!