How much dirt can you fit into a car? Apparently quite a bit.
Here is the front seat with a big cooler and a small bucket: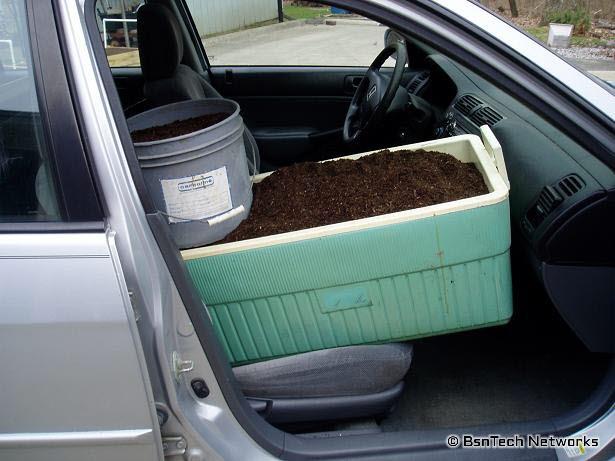 And here is the back seat with two five-gallon buckets and a huge tote that holds another 35 – 40 gallons:
And lastly, a trunk filled with nine more five-gallon buckets:
That is a whole lot of dirt!
I had time today without anything planned, so I figured I would spend a good part of the day down at the local compost facility. I took all the buckets, a big shovel, the tote, the cooler, and a big coarse-sized screen so I could get some good dirt/compost without any big sticks, rocks, or globs in it. I wanted to finally get the garden on the driveway completed. The dirt/compost in this container has to be without big rocks and the like because the carrots will be grown in it.
Overall, it took me from about 11 am today to 5 pm to fill the containers. I had to make two trips to the place to finally fill the driveway garden, but I got it all done. Here it is turned into a "greenhouse" with some clear plastic over the top. I did this to keep the rain out (which incidentally it rained on and off today). When I get all the carrots planted out there, I will wait until they are mostly all sprouted with a few leaves before taking the plastic off – that way the rain won't do any changes to the soil and move the seeds around in the ground.
I was very surprised today as well! I've had a heck of a time getting the peppers to germinate so I went out and bought a heating mat to put underneath the new peppers I planted last weekend – thinking that it is too cold in the house (hey, it is between 59 and 64 in the house since I have to save on the gas bill – and peppers – from what I read- need at least 70 to germinate). Well, finally after 18 days, ALL THREE of the peppers – that were not on the heat pad – all germinated at the same time! What a coincidence was that! Amonst the peppers, there also were two more cauliflower that sprouted.
So, another good day for gardening around here.
Backing up a bit – we went to my in-laws house – whom own quite a substantial amount of land. There, they set aside some land for us to grow things and use for whatever we would like. Well, we will be planting about 300 seeds of sweet corn (so we can eat it on the cobb and also take the kernels off and freeze them so we don't have to buy the canned corn) and potatoes. In addition, we will be putting in our grape vines on the property too.
So with the help of my father-in-law, we put up some 2-foot fencing around part of the area where the corn will be. I only had 50 feet of fence, so there is still some work to be done. We also get the grape trellis finished. It is just standard 5-foot metal poles and some 13-guage wire. The length of the trellis is about 80 feet for ten grape vines. I used some earth anchors on either side and on one side (hard to see in the picture below), but there is also a fence strainer. The fence strainer allows you to use a small little tool, like a crank, and tighten the wire. So, the wire is pretty tight.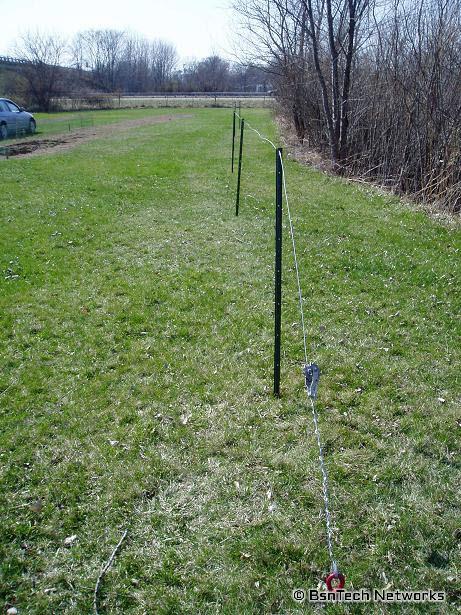 We already have the grapes (as in the previous blog entry). Three of them are Niagara, three are Concord, three are Catawba, and the last one is a Mars. The Mars is seedless so the in-laws can pick and eat them, and the other three are seeded – and will be used to make about nine gallons of wine each year (after the first three years of getting settled). Each grape vine will produce about one gallon of wine from what I read elsewhere.
We'll be going down again next week to finish up a few more things before the season starts. Last time we all drove on car and the car was loaded with the compost that we spread over the area the corn will be at and also onto their little garden. There is a lot more that needs covered – so we'll drive both cars and have both of them fully loaded with containers of compost!