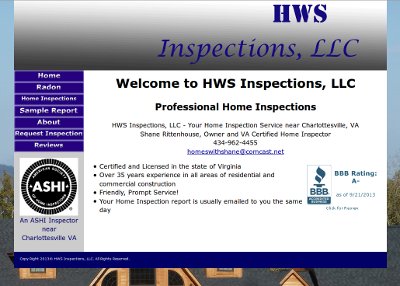 BsnTech Networks was contacted by Shane, the owner of HWS Inspections, LLC a few weeks ago concerning some questions about search engine optimization (SEO) and how he could be found more easily online.
We went into great detalis to explain how the process worked and the different kinds of SEO services that we offer.
In the end, Shane decided to choose our entire SEO services package which included submission to online business databases, on-page SEO, and the advanced off-page SEO package that we offer.
On his website, it was made by a family member and the site suits their needs. However, it was not optmized at all for the specific keywords he wanted to be found for. It needed a few hours of work to fully bring it in-line with SEO standards.
Even only after approximately five days, his website already went from being no where in the top 100 for the keywords he wanted to target – to going to pages one and two! One of his phrases is already ranked #3 in Google and the other two are #16 and #20.
With SEO work, you never can tell what will happen. There is no guarantee as to the kind of results that we can achieve for customers because it fully depends upon their budget, how well they continue with the SEO services, and the competitive nature of the keywords that they wish to target.
Shane's website for HWS Inspections LLC is at hwsinspections.com.
We appreciate the business from Shane and look forward to a long relationship with him as we help him manage his online marketing needs!