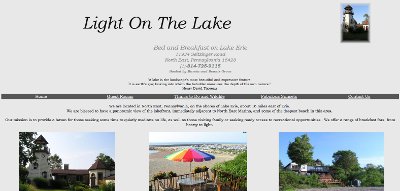 Dennis – a co-owner of Light on the Lake in North East, PA contacted us a few days ago. A tragedy occurred with their previous webmaster and therefore they were looking for a new company to assist with their website requirements.
Unfortunately the main domain name that Dennis had – lightonthelake.com – was under the previous webmaster's account and it expires today (9/19/2013). Dennis purchased four other domain names for the site and is hoping that down the road, they will be able to purchase the domain name that they have lost.
BsnTech Networks stepped in very quickly and made a full backup of their website. In the event that the domain name expired, they would have also lost their website since they had no information about the website hosting as well.
A few changes were made on the website – mostly to update their e-mail address – and it was then restored and setup on website hosting servers owned by BsnTech Networks.
Dennis has also expressed a potential interest in having us fully create a new website for their bed and breakfast business. Their new domain name is at lightonthelake.net.
We look forward to a long-term relationship with Dennis and Light on the Lake for all of his website hosting and website maintenance requests!